December 14, 2010 – THD Rumor Patrol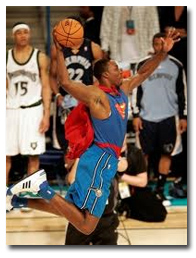 Superman has left the building! Permanently folks.
"I'm retired for life," Orlando center Dwight Howard said in an interview with FanHouse on Monday about how he won't ever again compete in the NBA dunk contest during All-Star Weekend
Howard won the event in 2008 in New Orleans with a variety of innovative dunks, including one in which he donned a Superman cape. He finished second in Phoenix in 2009 to Nate Robinson before electing not to compete last season.
He won't be competing Feb. 19 in Los Angeles during All-Star Weekend nor ever again.
"I don't want to do it," Howard, 25, said after the Magic practiced at the Pepsi Center on Monday in preparation for Tuesday's game against Denver. "I want to let other people have an opportunity to shine. I (have done) the dunk contest too many times. I'm over with it."
We are sad to see the big fella go from the dunk contest. But in the end, we are more excited to see what Blake Griffin can do with his ridiculous ups. Griffin has done his imitation of Howard's superman dunk in game action this season to get us off our seats. He should run away with it if he follows through and enters.
Read more details via NBA Fanhouse