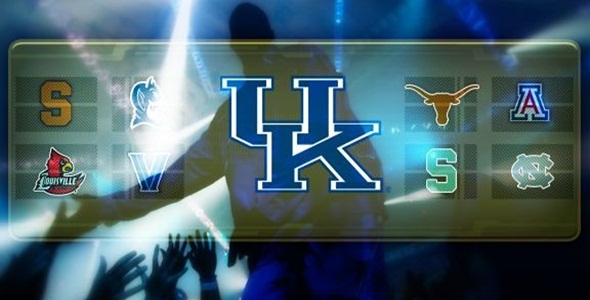 November 9, 2010 – Allen Moll
Back in the 80's and 90's it was the North Carolina Tarheels who kept plugging players onto NBA rosters like Michael Jordan, Rasheed Wallace, and Vince Carter. In the 2000's it was Duke and Connecticut who turned collegiate stars like Jay Williams, JJ Redick, and Rudy Gay into NBA ready stars. Now fast forward to 2010, and which school has taken the lead in churning out players to the professional ranks?
Is it Florida, which saw 3 players go pro after winning back-to-back NCAA titles in the middle of the decade? Or is it Kentucky, which sent a record 5 players from last season's Elite Eight squad to the NBA? Or is it still Duke or North Carolina, who continue to be NBA factories, annually sending multiple players to the next level?
In today's era of the one-and-done players, success comes by landing some of the nation's top rated recruits as most, even if they don't have stellar careers in college, still throw their hats in the ring for the NBA Draft. NBA GM's tend to draft based on potential rather than current skill level so the top schools probably have sent the most underclassmen to the pros in recent years. Still stumped?
Let's take a look at Which Schools Have Produced More Than 10 Players currently on NBA Rosters:
Top 9 NCAA Programs for Producing Active NBA Players



1) UCLA – 14
(Afflalo, Barnes, Collison, Davis, Farmar, Gadzuric, Holiday, Hollins, Kapono, Love, Mbah a Moute, Watson, Westbrook)
2) Kentucky – 13
(Azubuike, Bledsoe, Bogans, Cousins, Hayes, Magloire, Meeks, Mohammed, Orton, Patterson, Prince, Rondo, Wall)
Duke – 13
(Battier, Boozer, Brand, Deng, Duhon, Dunleavy, Henderson, Hill, Jones, Maggette, McRoberts, Redick, Williams)
3) North Carolina – 12
(Carter, Davis, Ellington, Felton, Hansbrough, Haywood, Jamison, Lawson, Stackhouse, Williams, Williams, Wright)
Kansas – 12
(Arthur, Aldridge, Chalmers, Collins, Collison, Gooden, Henry, Hinrich, Jackson, Pierce, Rush, Wright)
4) Connecticut – 11
(Adrien, Allen, Armstrong, Butler, Gay, Gordon, Okafor, Price, Thabeet, Hamilton, Villaneuva)
5) Arizona – 10
(Arenas, Bayless, Budinger, Bibby, Frye, Hill, Igoudola, Jefferson, Terry, Walton)
Florida – 10
(Bonner, Brewer, Calathes, Haslem, Horford, Lee, Miller, Noah, Speights, Williams)
Texas – 10
(Aldridge, Augustin, Bradley, Durant, Evans, Ford, Gibson, Ivey, James, Pittman)
Looking forward, Kentucky has a minimum of 3 players (Knight, Kantner, and Jones in '11) (Gilchrist, Teague, and Wiltjers in '12) each of the next two seasons that are projected as NBA Draft selections. The Wildcats look to have a stranglehold on future NBA pros. Maybe this is the reason that top tier recruits annually commit to play in front of Big Blue Nation?
Thanks to Kentucky Sports Radio
Allen Moll has been a lifelong NBA and NCAA College Basketball fan who watches and studies games religiously, and coaches youth basketball in his native Lehigh Valley region of Pennsylvania.  Allen also provides content to Bleacherreport.com, Upperdeckblog.com, in addition to being a tenured NBA and NCAA columnist for TheHoopDoctors.com.