October 15, 2010 – Allen Moll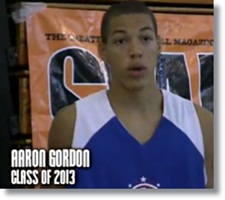 If you think it's a typo, you are mistaken. Rising Class of 2013 power/small forward Aaron Gordon is one of the most athletic players in the sophomore class. If you recognize the last name, Aaron is the younger brother of former UCLA stand-out Drew Gordon, who recently transfered to the University of New Mexico.
The younger Gordon is the #23 rated prospect in the entire '13 Class, but has the skills to be a Top 10 talent by his senior season. At 6'7 and 215 lbs, Aaron uses his already large frame to overpower smaller defenders, but also has above average hands and passing skills to either drop a dime or drive right by larger opponents.
Surely Gordon is not finished growing as he should add a few inches and gain a few more pounds to become a top tier big man come 2013. Even at the ripe age of 15, Aaron is receiving lots of high major interest from all the big time programs out West like Cal, Arizona, Stanford, Washington, and of course SEC powerhouse Kentucky.
We here at TheHoopDoctors.com will be keeping our eye on Aaron.
Check out Aaron first pulling off a sweet windmill before finishing off an amazing 360 jam off an alley-oop pass off the backboard:
Allen Moll has been a lifelong NBA and NCAA College Basketball fan who watches and studies games religiously, and coaches youth basketball in his native Lehigh Valley region of Pennsylvania.  Allen also provides content to Bleacherreport.com, Upperdeckblog.com, in addition to being a tenured NBA and NCAA columnist for TheHoopDoctors.com.