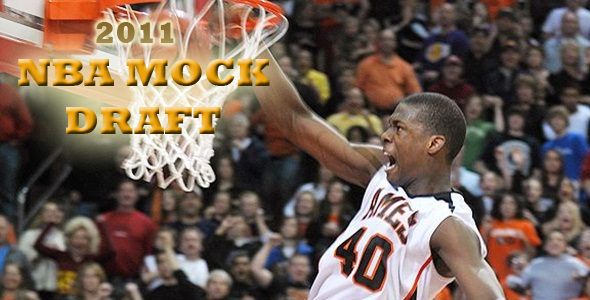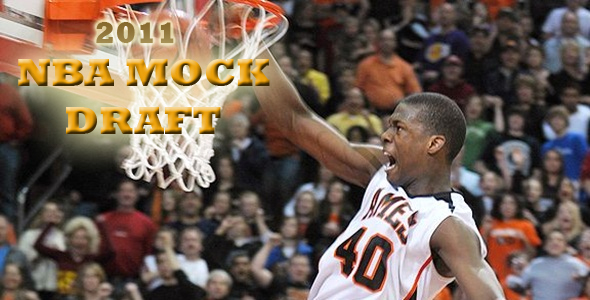 September 7, 2010 – Allen Moll
As is the recent trend in college basketball, next season should once again be dominated by one and done players.  After being treated to the outstanding freshman campaigns of John Wall, DeMarcus Cousins, and Avery Bradley, could Harrison Barnes at UNC, Brandon Knight at Kentucky, and Perry Jones of Baylor make the same sort of instant impact in the NCAA's? 
Besides the annual influx of talent from the high school ranks, don't sleep on a number of talented upperclassmen like Kyle Singler back for his senior season at Duke, the ever improving junior PF,  Trey Thompkins at Georgia, or Kansas State's Jacob Pullen, who could very well be the best back-court player in the nation next season.  After being a very good complimentary player for 3 seasons at Villanova, is Corey Fisher, who scored 105 points in a game this Summer, ready to make the leap as go-to guy in the Big East this season, replacing the graduated Scottie Reynolds?
Or will next season's NBA Lottery be infused with an international flare, filled with the ever improving overseas players.  Is this the year that a European player goes #1?  Kentucky's Enes Kantner will make a run at the top spot behind an already NBA ready body and possessing some really soft hands around the rim.  After pulling out of last season's draft, could Donatas Motiejunas, who is a Dirk Nowitzki and Pau Gasol hybrid, become the first international player ever to be drafted #1?
Only time will tell as another whole season of basketball has yet to be played out in college and overseas.  At this point, there are many more questions than answers for this upcoming season.  As such, these initial Mock Draft rankings are based on potential with last year's Draft order intact.   These are only my choices and not the consensus picks of all of The Hoop Doctors writers, with that said here is my 2011 Mock Draft:Version 1.0 :
Draft Order
College Team
Player
Position
Physical

1.

Was

North Carolina
Harrison Barnes
SG/SF
6'8     215 lbs  Freshman
For the 2nd consecutive season, a freshman will be the best player in college basketball.  For good reason, Barnes comes into UNC as the #1 rated HS player in the 2010 Class, and should start from day 1.  He is a 5 tool player, possessing prototypical size and an all-around game to match.  Offensively, Barnes is immediately as smooth and polished as any player in the college ranks.  As a former big, he can either post up bigger defenders or shoot over smaller foes.  While he may not be as explosive as John Wall, Barnes is much more of a complete player as an incoming freshman.  He uses his above average athleticism to glide to the basket, similar to a once healthy Grant Hill at Duke. 

2.

Phi

Kentucky
Enes Kanter
PF
6'11   265 lbs   Freshman
Replacing DeMarcus Cousins at Kentucky is no small feat, but Turkish big man Kanter will do just fine as he has been abusing opposing bigs overseas for many years already.  He has a great motor, enjoys contact, and has the potential to be an elite level rebounder at the NBA level.  Combine that with an already polished offensive game, and the Wildcats may once again have the best big man in the college ranks.  He already has broken Dirk Nowitzki's scoring record(34 pts) at the Nike Global Hoops Summit against some of USA's best players.

3.

NJ

Lithuania
Donatas Motiejunas
SF/PF
7'0   225 lbs   International
 After pulling out of last season's Draft to hone his skills one more year in Europe, the Dirk Nowitzki clone will look to bring his fluid offensive game to the NBA.  He's a versatile big man who relies on finesse, although with improved strength, has the ability to post up and be a great rebounder.  He is much improved off the dribble with an ever increasing range on his jump-shot way beyond the 3 point arc.  At only 20 years of age, Donatas has the potential to be a future superstar at the next level.  Defense is still work in progress.  Watch him dominate this Summer for the Lithuanian National Team during FIBA Worlds.

4.

Minn

Baylor
Perry Jones
SF/PF
 6'11   230 lbs   Freshman
Although his HS stats aren't eye popping, Perry's athleticism, size(7'3 wingspan), and skill-set, combined with his only 19 years of age, already have NBA scouts salivating before even playing a minute of college basketball.  Standing nearly 7 feet tall, but with phenominal lateral quickness and ball-handling skills to that of a guard, Jones will be a nightmare to defend.  He is at his best attacking the rim off the dribble but has decent 3 point range.  Many GM's consider Jones as possibly the best future pro prospect of any player in college next season, since many see him as the next T-Mac(without the injuries).

5.

Sac

Kentucky
Brandon Knight
PG
6'3   185 lbs   Freshman
Knight has some very big shoes to fill replacing #1 NBA Draft pick John Wall at Kentucky.  As a 2 time HS Gatorade Player of the Year, Knight is a bit more physical than Wall, but is a much better passer entering college.  Although at times streaky, he can be a much better shooter, and thrives with the game on the line, as evidence of his game winning 3 pointer in the McDonalds Game.  What seperates Knight from other freshman point men is on defense, where he drew nearly 2 charges per game against opponents in high school.  Has the potential to be a big time scorer in NCAA's. 

6.

GS

Duke
Kyrie Irving
PG
6'2   180 lbs   Freshman
Irving will be a star from Day 1 for the Blue Devils.  Many feel that he is the most NBA ready point guard entering the college ranks.  He does it all, score in bunches, handle the rock with ease, and plays agressive on ball defense.  Despite an average frame, Irving is a physical point man, who can either get to the rim with the best of them or is deadly by pulling up for a long range jumper after faking out an opponent.  His most attractive skill to NBA scouts is his supreme ability in the pick and roll, which is a mainstay at the next level.  While I think it's a stretch, many have compared him to Chris Paul.  

7.

Det

Syracuse
Fab Melo
C
7'1   265 lbs   Freshman
Entering college as the #1 ranked Center prospect, Fabricio de Melo could be one of Coach Boeheim's best ever prospects.  He should slide right in for the graduated Arinze Onuaku in the middle for the Orange.  Melo has worked hard to trim excess body fat and should be a shot-blocking specialist from the onset.  But that's not all, since he has an improving offensive game, and can shoot daggers at opponents from 15 feet with regularity.  The sky is the limit for the Brazilian big man, but he is still considered a raw talent, since like many international phenoms, he has only been playing b-ball for a few seasons.

8.

LAC

Kentucky
Terrence Jones
SF/PF
6'9   225 lbs   Freshman
With a similar skill set to Perry Jones at Baylor, Terrence has the potential to be a 3rd Lottery pick for Calipari's Wildcats.  With the ability to put the ball on the floor along with imposing size from the backcourt, he should be able to score at will against smaller forwards in college.  What makes him especially tough to defend is his long range jumper, since when hot, he can go on a 3 point barrage from downtown.  Time will tell if he develops as a 3 or 4 at the next level.

9.

Utah

Duke
Kyle Singler
SF
6'9   235 lbs          Senior
As arguably the nation's best senior this season, there's no doubting that Kyle will do whatever is necessary to help his Dukle squad repeat as National Champions.  One of the most versatile players in all of the college ranks, Singler can score in a variety of ways even though he lacks overwhelming athleticism from the small forward position.  One thing to watch is how NBA GM's consider Singler as a defender, as he has yet to prove that he can stay in front of quicker offensive opponents in college.  To offset these deficiencies, Kyle has a high release on his jump-shot, possesses a super high basketball IQ, and has proven to have the heart of a champion on the NCAA's highest level.   

10.

Ind

Georgia
Trey Thompkins
PF
6'10   245 lbs           Junior
Despite being below the radar of the average NCAA fan, Trey is undoubtedly an elite NBA prospect.  Possessing a prototypical NBA power forward physique, he is best suited in the half court as a low post player, even though he knocked down more than 38% of his 3 point attempts.  Despite average athleticism, Thompkins overmatches opponents with a through the roof basketball IQ, tremendous footwork in the paint, and a focus on dominating the fundamentals of the game.  Trey is one of the game's best offensive rebounders and scores on feathery tip ins, put-backs, and baby hooks, in addition to a being a rarity in today's game – a big man who shoots nearly 80% on free throws.

11.

NOH

Connecticut
Kemba Walker
PG
6'0   185 lbsJunior
Kemba will be given the reigns to run the Huskies offense this season.  What he lacks in size, Kemba definitely makes up in blazing quickness and elite level handles.  He is a tremendous athlete who has all of the tools and intangible to succeed at the next level but needs to improve his decision making to be an NBA point guard.  He has shown improvement in his, at times, shaky jumpshot and has streaky 3 point range from anywhere in the building.  He has one of the quickest 1st steps in the game, and consequently takes more than 6 FT attempts per game, which also bodes well at the next level.  Hailing from NYC, Kemba is one of the college ranks best trash-talkers, which is fine as long as he can back it up.

12.

Mem

Vanderbilt
Jeff Taylor
SF
6'7   225 lbs Junior
The Swedish born Taylor will be the go-to-guy for the Commodores next season as his offensive production is expected to surge.  As one of the NCAA's best athletes, he has yet to fulfill his immense potential.  He has great form on his jumpshot and uses his extremely long frame to clog the passing lanes and can be a possible elite level defender in the pros.  Similar to Andre Iguodala, he does a little of everything, but doesn't excel in any one area.  Jeff is at his best going to the basket but at times still disappears without the ball.  He will be given every opportunity to prove he belongs on the big stage with the departure of AJ Ogilesby to Europe.

13.

Tor

 Kansas
 Josh Selby
 PG/SG
 6'1   180 lbsFreshman
If he can get cleared to play this season, Selby has the skills to dominate at the collegiate level.  Selby is a scoring machine as a combo guard who is rated anywhere in the Top 3 players in the nation among scouting sources.  He is as intense a player as you will find, maybe at any level, and is an instant impact player from Day 1 for the Jayhawks.  A tremendous athlete, he could be one of the game's best finishers at the rim despite barely being 6 foot tall.  To go along with his tremendous passion for the game, he has an inate ability to either score in bunches or dish the rock in traffic.  Selby's primary focus is on scoring, despite possessing tremendous athleticism and all the intangibles to succeed at the next level.  He's a shorter, nastier D. Wade in the making.  All of these attributes will mean nothing if he cannot be cleared by the NCAA.

14.

Hou

Georgia
Travis Leslie
SG
6'4 200   lbs  Junior
While mostly known nationally for serving up a facial on DeMarcus Cousins last season, Leslie is a freakish athlete, who has potential at the next level.  While at this point he relies too much on his physical attributes, he is a tremendous backcourt rebounder, as evidence of pulling down 7 boards per night last season.  He has a still developing jumper, extremely high motor, and excellent on-ball defense, to go with explosive leaping ability.  Still needs to work on ball-handling and creating his own shot but GM's absolutely love his potential.  Future NBA Dunk Contest contestant.

15.

Mil

KK Partizan Belgrade
Jan Vesely
SF/PF
6'11  240 lbsInternational
Probably the 2nd international player selected, Vesely is under contract in Europe until 2013 and will scare off a few teams from drafting him too high.  At only 19 year old, Vesely is the prototypical perimeter oriented big man, who excels at 3 point shooting and hustle plays.  At this point he is still not strong enough to bang in the low block despite standing nearly 7 feet tall, but NBA weight rooms figure to be a quick fix.  When he ventures in the paint, he can be an elite level shot-blocker.  NBA execs view him as a modern day Toni Kukoc, if they are willing to wait a few years.

16.

Minn

Ohio State
Jared Sullinger
PF/C
6'8   260 lbsFreshman
As possibly the most potent offensive big man entering the NCAA, Sullinger is the next in the long line of promising Ohio St. big men, following Oden, Koufos, and Mullens.  Sullinger is a big body and at 6'9 ish, projects as a PF in the pros, despite playing center in HS.  He is a bruising low post player that draws comparisons to a young Al Harrington.  Has potential to be an elite level rebounder to go along with a polished post game where he can finish with both hands.  Must improve conditioning and running the floor, a necessity in the NBA game.   

17.

Chi

Michigan State
Kalin Lucas
PG
6'0   180 lbsSenior
After rupturing his Achillies during March Madness last season, Lucas is back at the helm of the Michigan State juggernaut of a squad.  He should be the premier point guard in the nation that displays leadership, above average quickness, and is an extremely great ball-handler and decision maker.  Despite lack of size, he is a rock heading to the rim, and is and-one capable on nearly every posession.  Kalin statistically is better shooting off of screens and is an above average long range shooter, as evidence of his shooting 39% from behind the arc.  He reminds me a bit of Avery Johnson in his prime.

18.

Mia

Lietuvos Rytas
Jonas Valanciunas
PF/C
6'10  230 lbsInternational
At only 18 years of age, Jonas is the perfect compliment to Donatas Motiejunas on the Lithuanian National Team.  Although still considered a raw talent, he has an incredible wingspan(7'4) that makes him very difficult to guard on both ends of the floor.  Right now he is clearly a low block player with range on his jumper extending only to about 10-12 feet, but is reportedly dead set on becoming an elite player.  Needs to improve strength and conditioning to compete against NBA bigs but has unlimited potential. 

19.

Bos

Gonzaga
Elias Harris
SF/PF
6'8   225 lbsSophomore
As on of the NCAA's best freshman last season, Harris is poised to make a jump to elite status as he will attempt to keep the Zags on the nation stage.  He has protoypical size at the SF position and has a hybrid inside/outside complimentary game that NBA GM's love.  He plays very aggressive as he is a highlight reel dunk waiting to happen.  Elias is an above average rebounder and has experience beyond his 21 years since he has competed internationally for his native Germany the past few seasons.  Undoubtedly he will declare for the NBA Draft since he is 2 years older than the average college sophomore. 

20.

SA

BYU
Jimmer Fredette
SG
6'2   195 lbsSenior
As arguably the nation's best pure shooters, Fredette showed off his abilities during this past NCAA Tournament.  NBA execs took notice, even though he reluctantly withdrew from the Draft in June, to play out another year with the Cougars.  He is described as a prolific scorer with developing point guard skills.  He has exceptional speed despite only average athleticism and will be on of the best players in the nation despite playing in a mid-major conference.  If he develops his ball-handling and ability to create his own shot against bigger opponents, he could be a steal as a sharpshooting bench player in the mold of JJ Redick or Eddie House.

21.

OKC

NC State
CJ Leslie
SF/PF
6'7   210 lbsFreshman
As another of the highly touted incoming freshman invading the college ranks this season, Leslie is probably the most athletic and yet the rawest of talents of the top tier prospects.  Hopefully he puts things all together as a freshman as millions await CJ at the professional level.  His imposing length and athleticism alow him to continually make plays above the rim as he will undoubtedly be a favorite to make SportsCenter's Top Plays of the Week.  Leslie is also an excellent defender and should block a number of shots from the SF position.  He is the ultimate high motor player and will enjoy exciting the Wolfpack faithful in a John Wall mold.

22.

Por

Duke
Mason Plumlee
PF/C
6'10  22olbsSophomore
Mason has been on NBA executives' radar since high school and after the graduation of most of the Duke frontcourt, he should get the chance to show the nation his supreme talents as an athletic big man this season.  Mason is the new hybrid big, who would rather face up and take his man off the dribble, rather than play with his back to the basket.  While he needs to improve his strength to compete at the next level, heart and hustle is never an issue as he will be the first player on your squad to dive for loose balls or mix it up with opposing players.  Because of his insane leaping ability, he regularly plays above the rim, and should be capable of blocking 2-3 shots per game.

23.

Minn

Kansas
Marcus Morris
PF
6'9   230 lbsJunior
Although he has average athleticism for the next level, Marcus is a gamer and uses his high basketball IQ, mental toughness, and versatility on the offensive end.  He does a little of everything, but is probably best taking his man off the dribble and finishing off an And 1 play.  He also has an adept mid range jumper, with range extending out to the 3pt arc, but shooting treys is really not one of his strengths heading into his junior season.  With Aldrich gone to the NBA, Marcus will be more of a focus on both sides of the ball as opposing bigs usually concentrated on guarding Cole last season.  Marcus has an NBA body but may need to improve conditioning.

24.

Atl

Syracuse
Kris Joseph
SF
6'7   215 lbsJunior
The Canadian born Joseph should crack the starting line-up for the Orange after being a spark-plug off the bench his first two seasons.  He is a Wes Johnson clone, except with a jumpshot still in the development stage.  He has an explosive first step and uses his extreme athleticism to finish at the rim whenever possible.  Possessing an extremely long wingspan, he could develop into an elite level defender from the SF position.  At this point he is still described as raw talent but has potential to be a good NBA player in the future.  Sticking around for another season in a good program like the 'Cuse would do wonders for Joseph.

25.

Mem

Ohio State
William Buford
SG
6'5   185 lbs Junior
As the heir apparent to take over playmaking skills for the departed Evan Turner on a young Buckeye squad, Buford will be the man for Coach Thad Matta this season.  He has a pretty jumper with deep range that allows the offense to open up and his team to spread the court. He moves well without the ball, and has a good understanding of spacing which is key for a shooter. Playing against Evan Turner in practice for two years will be an advantage, as his unselfish play and sound decision making help put his teammates in the best position to win.  With freshman Jared Sullinger working down low, Buford should see more open looks from the perimeter.

26.

OKC

Baylor
LaceDarius Dunn
SG
6'4   200 lbsSenior
The former McDonalds All American should be one of the nation's best shooting guards as he has steadily increased his production each season in college.  With Ekpe Udoh gone, Dunn will be the man playing alongside freshman phenom Perry Jones this season.  He has deep range from behind the arc and uses supreme quickness off the bounce to help showcase an above average mid-range game.  He has an ever improving handle and excels in transition but may be a tad small for bigger guards at the next level.  Similar in size and skill set to Detroit's Ben Gordon.

27.

NJ

Temple
Lavoy Allen
PF
6'9   230 lbsJunior
Lavoy is a very skilled big man with excellent fundamentals and footwork that bodes well in the pros.  He is still a work in progress but has prototypical size to play the PF position.  He is arguably one of the best passing big men in all of college basketball as he constantly helps spread the floor for Temple shooters.  He is an adequate defender  who is an above average rebounder, especially on the offensive end.  The knock up to this point, has been inconsistency, as he at times disappears from games.  Allen should be one of the leading double-double men in the NCAA next season.

28.

Mem

Florida
Chandler Parsons
SF/PF
6'9   210 lbsSenior
Parsons is Florida's "Mr. Big Shot" as he has nailed a number of game winning shots over his Gator career.  He is an ever improving small forward with excellent athleticism.  He has literally been a growing mismatch as he has shown an increase in physical height each season at Florida.  Chandler does a little of everything as he last season scored in double figures, dished out nearly 3 assists, pulled down 6+ rebounds per game, shot more than 36 % on 3's, and got to the charity stripe 5 times a night.  He could emerge as one of the best players in the SEC as Florida attempts a full rise back to national prominence. 

29.

Orl

Georgetown
Austin Freeman
SG
6'4   230 lbsSenior
After getting the best of a scary battle with Diabetes, Freeman is back in Hoya land for his senior campaign and may be the Big East's best player.  A former McDonalds player, Austin is one of the strongest SG's in all of college basketball.  Despite being short in stature(6'4), he uses his rather large frame to bully smaller opponents as he excels from the perimeter.  He is graceful with the ball and has an effortless release from anywhere behind the arc, where he nailed more than 44% on 3 point attemps last season.  He possesses a high b-ball IQ and uses it to his advantage on both sides of the ball.  Austin also has an excellent mid-range game to compliment his below the rim style.  Because of only average ball-handling skills and a lack of height, Freeman projects as a 3 point specialist in the pros.

30.

Wash

Arizona
Derrick Williams
PF
6'9  230 lbsSophomore
In his first season of college basketball, Williams was arguably the PAC-10's best freshman as he helped to solidify the Arizona frontcourt.  While most of his shots come from within the painted area, he impressed NBA scouts with a surprisingly outstanding leaping ability, deft footwork around the rim, and a penchant for crashing the glass despite only average athleticism.  Williams has tremendous strength as he relies mostly on spin moves and tip ins to score.  He must improve his low post game and extend his range on his jumper as he currently exclusively plays in the post.  Another year or two of seasoning could make Derrick a Lottery pick.
1st Round Sleepers:
Reynardo Sydney, Miss St – PF/C – (6'9   265 lbs) – After sitting out a whole season over eligibility concerns, Sydney will likely only be on Mississippi State's campus for only one season as he already has an NBA frame, and offensive game to boot.  He excels both around the rim with a feathery jumper out to the college 3 point line.  He has above average ball-handling skills and can be a beast in the post.  He was rated similar to Kentucky's DeMarcus Cousins leaving HS, as NBA scouts compare his game to former NBA superstar Chris Webber.  Conditioning and work ethic may be the only obstacles to becoming a premier NBA player.  He remains a sleeper since he has yet to play a minute of college basketball. 
Corey Fisher, Villanova – SG/PG – (6'2   200 lbs) – The man known as "Fisher Price" because he toys with opponents should take over the scoring burden for the departed Scottie Reynolds at Villanova.  He has a typical NYC swagger on the court and can either take it to the rack using his above average crossover dribble and shoots a high percentage from behind the arc.  He has also shown a knack for getting to the FT line, and most people forget he was a big time scorer in HS, notching numerous 40+ scoring games against top notch opponents like Brandon Jennings and Eric Gordon.  Scoring 105 points in a Summer league game has to at least pique the interest of NBA GM's. 
Nolan Smith, Duke – SG – (6'3   185 lbs) – Nolan may be the X-factor in the Blue Devil's hopes of a re-peat this upcoming season.  Everyone knows what to expect out of Singler, and everyone knows that freshman Kyrie Irving will be good, but where does that leave Smith, who was their 3rd leading scorer last season.  He has been tearing it up this Summer, even dropping 40 points on a few occasions.  If he finds his niche, paired in the backcourt with Irving and Seth Curry, he could be one of the top scorers in the ACC and shoot up Mock Drafts, and improve his stock as a contributing NBA combo guard.
JaJuan Johnson, Purdue – PF – (6'10   215 lbs) – After steadily improving his first 3 seasons at Purdue, Johnson is clearly on the NBA's radar, probably as a defensive stopper.  Possessing a long frame and even longer wingspan, he is an above average shot-blocker but only an average offensive player.  He relies on finesse with his back to the basket because of a rather slight frame, which is an area of needed improvement if he is to go pro.  He has a decent face up game despite measuring nearly 7 feet tall but shoots to many fade-aways and settlesfor long distance shots despite being able to shoot over nearly everyone he faces.  With that being said, he could be a part of something special with a veteran laden squad and could shoot up draft boards if he adds a little muscle and shows slight improvement on the offensive end. 
Alec Burks, Colorado – (6'6   195 lbs) – After having a stellar freshman season, even making onto a number of pundit's All Freshman 1st Teams, Alec looks to become a household name, despite playing on a mediocre Colorado squad.  He has prototypical SG size for the next level and is an impressively smooth scorer at a young age.  He needs to add strength but shows excellent promise as a finisher and excellent defensive player.  As a young(still only 18 yrs old), incoming sophomore, the sky is the limit to his future potential.  Could be a future Lottery pick if he sticks around the college ranks past next season.
John Henson – UNC – (6'11   200lbs) – Even after a disappointing freshamn campaign(5.7 ppg, 4.4 rebs), many will take issue with my not including Henson in my initial 2011 Mock Draft.  But to be honest he hasn't done much to prove otherwise.  He regularly got shoved around by opposing players and appeared to be lost when on the floor.  With that being said, he has intruiging size and skill-set for the next level but needs to start to show it, in order to get there.  He reportedly has added 15-20 lbs to his slight frame and has focused more on becoming a post player as he will probably get a starting nod in the Tarheel frontcourt alongside Tyler Zeller and freshman phenom Harrison Barnes.  Barnes will likely take some of the attention off of Henson, giving him an opportunity to shine.  If he takes advantage, he has potential to be a Top 10 pick.
For more Mock Drafts from all sorts of Blogs and Analysts check out The Hoop Doctors 2011 NBA Mock Drafts Database.