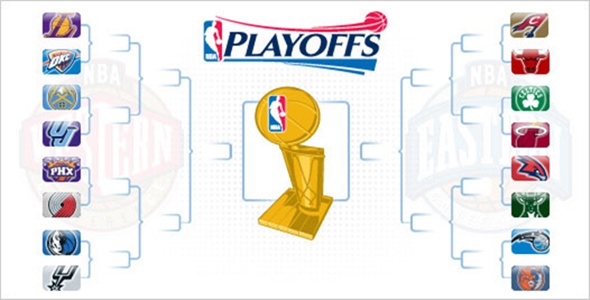 April 17, 2010 – Allen Moll
While there's no real formula to help predict this year's winners, we'll use our basketball prognostication skills, some number crunching, and some good old fashioned gut feelings to help predict each round's winners of this year's NBA Playoffs. Will the Lakers or Spurs win another title or will we see a new team like Cleveland or Orlando win their first championship?
Eastern Conference
First Round
(1) Cleveland vs (8) Chicago

Derrick Rose has been on a mission to prove that he is one of the NBA's best players. Lebron James already knows he is the best player and is on a mission to win a championship. Best case scenario: Bulls might steal a game. Unfortunately Joakim Noah won't be able to keep Lebron from dancing.  Luckily the Bulls snuck in as the #8 seed since Toronto vs Cleveland would have been a bloodbath. 
Prediction: Cavaliers in 5(4-1)
(2) Orlando vs (7) Charlotte

Dwight Howard will be the most unstoppable force in the playoffs and Charlotte's only player who can at least slow him down, Tyson Chandler, is hurt. Rumors are already swirling about Larry Brown leaving to go back to Philly.  Look for Rashard Lewis to have some break-out scoring games.
Prediction: Magic in 4(4-0)
(3) Atlanta vs (7) Milwaukee

If Andrew Bogut was healthy, the Bucks could have made this interesting. Atlanta's core group of players will be too much for Milwaukee. Having Brandon Jennings on your team will make sure their won't be a sweep. Look for Al Horford and Josh Smith to dominate the paint.  Fear the Deer is done.
Prediction: Hawks in 5(4-1)
(4) Boston vs (5) Miami

This may wind up being the most entertaining series of the post-season. The Celtics have stumbled into April while the Heat couldn't be hotter. Will a rested Garnett, Pierce, and Allen be the difference?  With the Heat's weakness at point guard, Rajon Rondo could approach a triple-double each game.  D. Wade will go wild but the Celtics experience and heart will prevail. Must watch TV.
Prediction: Celtics in 7(4-3)
2nd Round
(1) Cleveland vs (4) Boston

A much younger and athletic Cavaliers squad will essentially put an end to Boston's "Big 4's" window of opportunity since changes are inevitably coming next season.  If Boston stays healthy and gets in a groove, they could make the series interesting.  But in the end, the Celtics will put up a fight, but Lebron and Shaq will be heading back to the Eastern Conference Finals with their eyes on the prize.
Prediction: Cavaliers in 6(4-2)
(2) Orlando vs (3) Atlanta

We all know about the Hawks 2nd round curse as discussed in our Playoff Preview.  Odds are Atlanta's struggles to advance will continue since they just don'r match-up well against Orlando.  The Magic are just too deep and talented to lose in the 2nd round. Orlando will slow down the tempo and force the Hawks to play a more half-court style of game which isn't their strong suit.
Prediction: Magic in 5(4-1)
Eastern Conference Finals
(1) Cleveland vs (2) Orlando

In the match-up that we have all been waiting for, I would be shocked if the series doesn't go 7 games. The series will ultimately be decided in the paint with the battle of who wins the title of Superman: Shaq vs Howard. Shaq is an all-time great but Howard is now the game's most dominant low post force.  Unfortunately for the Cavs, Orlando earns a return trip to the NBA Finals.
Prediction: Magic in 7(4-3)
Western Conference
First Round
(1) LA Lakers vs (8) OKC Thunder

Kevin Durant and the OKC Thunder have had a great year but aren't yet in the same league as the Kobe-led Lakers. Even with Bynum and Kobe banged up, LA is built to go deep in the playoffs and the young Thunder are no match for Phil Jackson's mindgames.  Even though Kobe Bryant will be held in check by Russell Westbrook and Thabo Sefolosha, the Lakers move on. 
Prediction: Lakers in 4(4-0)
(2) Dallas vs (7) San Antonio

Similar to Boston in the East, the Spurs are running out of time since Tim Duncan is playing on his last legs(literally). This is the most talented Mavs team to date and are on a mission to make it back to the Finals. Look for Dirk Nowitzki to have an excellent series by going for 30+ each game.  Even though Dallas won the regular season 3-1, San Antonio won't be an easy out.
Prediction: Mavericks in 6(4-2)
(3) Phoenix vs (6) Portland

With news that Brandon Roy will miss the playoffs, the Trailblazers chances to win are now microscopic against one of the league's hottest teams. Steve Nash wants to win a title and Amare Stoudemire is again playing with a passion. Both mean bad things for Portland even if they were at full strength.  Nash will be unstoppable against the Blazers porous back-court defense.
Prediction: Suns in 5(4-1)
(4) Denver vs (5) Utah

With out Coach Karl and a less than 100% Kenyon Martin made this a pick-em. But news that Carlos Boozer is also on the mend tips the scales in the Nuggets favor.  Watch out for some prolific scoring games from Carmelo Anthony.  The extensive playoff experience of Chauncey Billups will be a factor as the Nuggets advance.
Prediction: Nuggets in 6(4-2)
2nd Round
(1) LA Lakers vs (4) Denver

In a re-match of last year's Western Conference Finals, both teams are just as talented but both have questions entering the post-season. How Nene can try to contain Pau Gasol without using up his fouls will determine the outcome. When the game is on the line, always go with Kobe.  The difference maker will be the outstanding play of Lamar Odom, who has been a steadying force off the bench this season.
Prediction: Lakers in 7(4-3)
(2) Dallas vs (3) Phoenix

Jason Kidd vs Steve Nash: a dream match-up of future Hall of Fame point guards will be the highlight of the series. Can Kidd slow down the still quick Nash?  Dallas has finally figured out how to play at least mediocre defense which is something Phoenix has not yet been able to accomplish. The Mavs size up front will be too much for STAT to handle by himself.  Mavericks advance to the Western Finals.
Prediction: Mavericks in 6(4-2)
Western Conference Finals
(1) LA Lakers vs (2) Dallas

While the favorite pick here would be the Lakers because of experience, defense, and of course,…….they have Kobe, they just haven't seemed right since the All-Star break. If LA was 100% right, they would win in 6, but Dallas has been very good all year and appear on a mission to redeem themselves from a disappointing loss in the Finals of a few years ago.
Prediction: Mavericks in 7(4-3)
NBA Finals
Orlando vs Dallas

Both teams have arguably been the most consistently good teams and have the deepest benches all season long. Both teams have been NBA bridesmaids in recent years and are poised to break through. As far as X's and O's, Stan Van Gundy takes a lot of flak, but is actually a better coach than he is given credit for and may be called upon to make a game-changing call. The Mavs can throw multiple big men to use up their fouls on Dwight Howard, while the Magic will throw the kitchen sink at Nowitzki. In the end, the Magic are too deep and talented from top to bottom and will squeak by the Mavs in 7.
Prediction: 2010 NBA Champions – Orlando Magic
Allen Moll is an avid NBA and College Basketball fan who watches and studies games religiously and coaches youth basketball in his native Lehigh Valley region of Pennsylvania.  Allen is a regular columnist for thehoopdoctors.com, Bleacherreport.com, UpperDeckblog.com, and his own site, Hoops Haven.