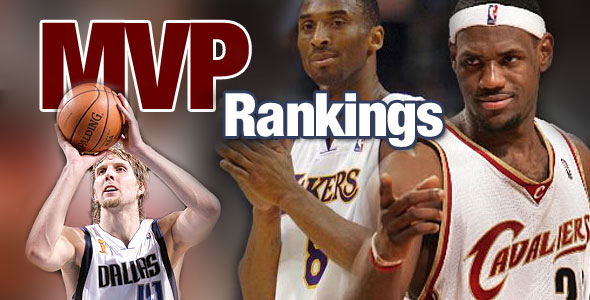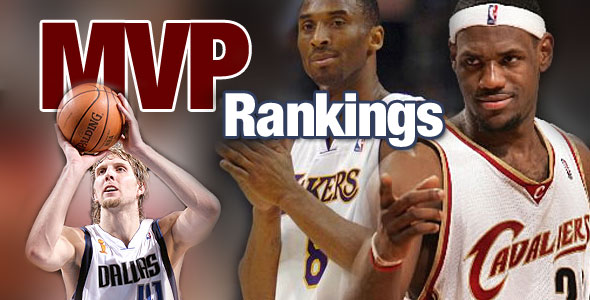 March 1, 2010 – Allen Moll
In our last MVP rankings, Lebron held down the top spot with Kobe a very close 2nd, and Dirk Nowitzki, Kevin Durant, and Melo rounding out the Top 5. With numerous injuries to some of the leaders over the past month, there have been a few shake-ups throughout our rankings heading into the home-stretch of the NBA season. Read on and feel free to give us some feed back on our selections. Where does your favorite player rank?
1) Lebron James

30.0 ppg, 7.1 rebs, 8.5 ast, 1.6 stl, 1 blk, 50 %FG
With or without Kobe missing most of February with injuries, Lebron has distanced himself from the rest of the field over the past month as he has almost single-handedly led the Cavs on a 13 game win streak to regain the NBA's best record(46-14). In addition to leading the league in scoring, Bron has taken over point guard duties in Mo Williams and Delonte West's absence and has averaged 10 dimes per contest including a 43 point, 13 rebound, and 15 assist gem vs Denver on February 18th.  Previous – 1
2) Kevin Durant

29.7 ppg, 7.6 rebs, 2.9 ast, 1.4 stl, 1 blk, 38% 3PT
By scoring 25+ points in 29 straight games and leading the surging Thunder(34-23) to the 6th spot out West, Durant continues his accension as one of the NBA's truly elite players. He already scores as easily as any player in the league and the scary part of it is that he is only 22 years old. Durant currently ranks 2nd in the league in scoring(29.7 ppg) and 8th in FT shooting(88%). The future is bright for both Durant and OK City as he has led them to a 8-2 record in February.    Previous – 3
3) Dwight Howard

18.8 ppg, 13.5 rebs, 2.8 blks, 61%FG
After a slow start to the season, Howard has come on strong by leading the Magic to 7 wins in February. With Howard leading the way by averaging 24 ppg, 15 rebs, and 4 blocks in the month, the Magic(39-20) have regained the #2 spot in the East behind a resurgent Vince Carter and Howard, who ranks 1st the NBA in rebounds, blocks, and ranks percentage points behind Boston's Kendrick Perkins for the lead in FG%.  Previous – 13
3) Dirk Nowitzki

25.0 ppg, 7.7 rebs, 2.5 ast, 1.1 blk, 1 stl, 91%FT
Don't look now but Dirk and the Mavs have reeled off 6 straight wins against some of the league's better competition(Orl, Pho, Atl, LAL) to put them in a dogfight with the Denver Nuggets for the #2 and #3 spots out West. During the recent win streak, Dirk has averaged 28 ppg, shot nearly 50% on threes, and has made 41 of 42 free throw attempts. For the season he ranks 7th in scoring and 2nd in Free Throw Percentage. Is it me, or do the Mavs look better now than their '07 Finals squad?  Previous – 3
4) Kobe Bryant

27.7 ppg, 5.3 rebs, 4.7 ast, 1.7 stl
It's been a tough month for Kobe by missing nearly 3 weeks, including the All Star Game. While the Lakers still played well in his absence(4-1), they definitely needed him in his first game back versus Memphis as he promptly drained his 5th game winning shot of the season. In his 6 games in February, he has topped 30+ points three times and has the Lakers(44-15) comfortably sitting atop the Western Conference with a 5 game lead. Now that he is rested, look for Kobe to play well down the stretch and move back up the rankings.  Previous – 2
5) Carmelo Anthony

29.0 ppg, 6.3 rebs, 3.4 ast, 1.3 stl
After missing the first 4 games of February, Melo has regained his scoring touch by averaging more than 27 ppg, including 40 points in a win over Lebron and the Cavs on Feb. 18th. Upon his return, the Nuggets have won 5 of 7 games including a current 3 game win streak to position themselves in the #2 spot in the Western Conference. Despite missing more than two weeks, Melo still ranks 3rd in the league in scoring.  Previous – 5
6) Chris Bosh

24.5 ppg, 11.4 rebs, 1.1 blks, 53%FG
Before missing the Raptors last 4 games with a sprained left ankle, Bosh was arguably a Top 5 player in the league by averaging 30 ppg, 15 rebs, and 2 blks in February by leading the resurgent Raptors back to respectability. He helped lead Toronto to an 8-2 mark in his last 10 games and a #5 spot in the Eastern Conference. Bosh ranks 8th in scoring, 6th in rebounds, and 10th in FG%.  Previous – 8
7) Steve Nash

17.4 ppg, 11.2 ast, 1 stl, 51%FG, 43% 3PT
Steve Nash is having arguably a better season statistically than his back-to-back MVP seasons by being the only player in the entire league to rank in the Top 25 in points, assists, steals, FG%, FT%, and 3PT%, and funny commercials. Although the Suns slumped in the month of January, Nash has led Phoenix to a 9-2 mark in February, firmly entrenching his squad among the Top 5 teams out West. Look for Nash along with a rejuvenated Stoudemire(at least for the rest of the season) to make a push for one of the Top 3 spots leading up to the Playoffs.  Previous – 7
8 ) Dwyane Wade

26.1 ppg, 4.6 rebs, 6.4 ast, 1.8 stl
Virtually all season Wade has struggled to keep the Heat in the Eastern Conference Playoff conversation. While he usually doesn't get the respect he deserves since the Heat are a mediocre team, Wade has arguably been every bit as valuable to his squad as Lebron or Kobe, but he remains low in our rankings due to a recent injury which has seen him inactive for the past 4 games. Before the injury, he led the Heat to a 5 game win streak that sees them currently sitting in the 8th spot in the East but without him they are in danger of missing the postseason.  Previous – 12
9) Joe Johnson

21.8 ppg, 4.7 rebs, 4.7 ast, 1.1 stl
Johnson has undoubtedly established himself as an elite player and go-to-guy for the Hawks this season and could be looking at a free agent windfall next Summer. He has scored in double figures in every game but 2 this season and has topped the 20+ point plateau in 6 of 10 games this month, leading the Hawks to a 6-4 mark in February and the #4 spot in the Eastern Conference.  Previous – 14
10) Carlos Boozer
In the final year of his contract, Boozer has been one of the most dominating forces in the paint this season. He currently ranks in the Top 20 in scoring and the Top 5 in rebounds and FG%. After a late January injury forced him to miss 3 games, he has put up more than 25 ppg and 16 rebs per contest and remains one of the league's best chairmen of the boards by grabbing 15 or more rebounds in 4 of his last 6 games.  He along with Deron Williams surprisingly have the Jazz among the Top 4 Teams in the Western Conference.  Previous – NR
Next 5:
Rajon Rondo – 14.1 ppg, 4.5 rebs, 10 ast, 2.5 stl, 52%FG
Brandon Roy – 22.1 ppg, 4.4 rebs, 5 ast, 1 stl
Derrick Rose – 20.3 ppg, 3.8 rebs, 5.7 ast, 1 stl
Tim Duncan – 19.1 ppg, 11 rebs, 1.7 blk, 51%FG
Stephen Jackson – 21.9 ppg, 5.2 rebs, 3.8 ast, 1.9 stl
Allen Moll is an avid NBA and College Basketball fan who watches and studies games religiously and coaches youth basketball in his native Lehigh Valley region of Pennsylvania.  Allen is a regular columnist for thehoopdoctors.com, Bleacherreport.com, UpperDeckblog.com, and his own site, Hoops Haven.