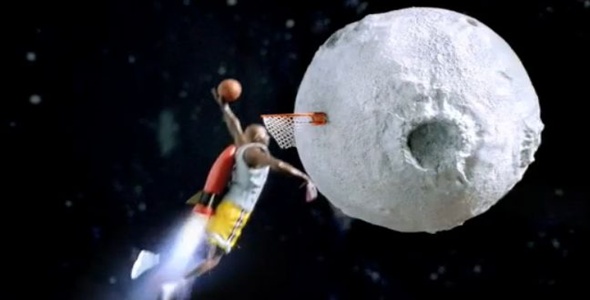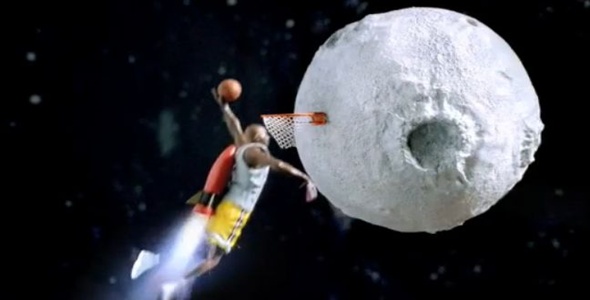 March 22, 2010 – Allen Moll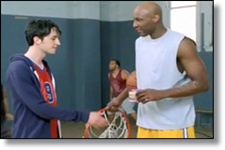 Over the years, Powerbar has partnered with a number of NBA players, to make some of the funniest commercials around. Who can forget the one featuring Carmelo Anthony in a supermarket, back in '08? Honestly, this is not a plug but, in my opinion, they make the tastiest variety of energy bars, while most others are barely edible.
Apparently they have enlisted the Lakers' Lamar Odom for their newest commercial which is just plain hilarious. In the commercial, Lamar shows off the the astronomical effects of eating one of their new fruit filled Powerbar Energy Blasts by attempting to dunk on the moon. The sequence is hilarious as Odom leaps off into orbit but makes it only halfway, until a spaceship drops another Energy Blast right into his mouth, instantly giving him a blast of energy(get it?), enabling him to tear the rim off of the moon.  Then, Lamar supposedly lands back where he started with shattered rim in one hand and a bag of Energy Blasts perfectly positioned in front of the camera, in the other. The only mix up is that Odom yells, upon taking off, to "Move over Saturn!" Maybe Odom slept through Science class since the moon is closer to Earth than Saturn…….doh!
What a difference a year makes. Last Summer, we were pondering where Odom would wind up in free agency, and now he is a TV reality star and is thriving once again with the Lakers as one of the NBA's best 6th men.  Lamar tends to be popping up in a lot of new adds lately.  Either his star is growing or he is trying keep up with his new wife, Khloe Kardasian.
Check out the commercial:
Allen Moll is an avid NBA and College Basketball fan who watches and studies games religiously and coaches youth basketball in his native Lehigh Valley region of Pennsylvania.  Allen is a regular columnist for thehoopdoctors.com, Bleacherreport.com, UpperDeckblog.com, and his own site, Hoops Haven.