March 1, 2010 – Dr. Dime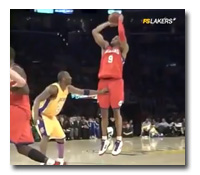 Kobe Bryant is a crafty defender. That means he will try and get away with the extra little bumps, scratches, pulls, and the odd time even punches when the referee isn't looking. I used to hate playing against defenders like Kobe Bryant, because they get inside your head and annoy you when you are trying to concentrate on scoring buckets. Kobe knows this as well, remember Dahntay Jones last year in the playoffs?
After Friday's matchup between the Lakers and Sixers, no one knows this about Kobe Bryant more than Andre Iguodala. Kobe pulled out all the stops in trying to distract the Sixers top scorer, including this play where he clearly punches Iguodala right in the balls and then looks around like "who me?". Classic defensive move Kobe. Next up pulling of the leg hair…
Don't forget to check out The Hoop Doctors new weekly video podcast series with Kevin Burke. Episode 001 published today covers your week that was in the NBA, including playoff race talk and discussion over the trade deadline moves.