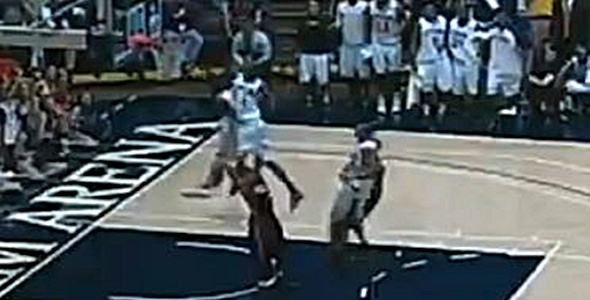 March 12, 2010 – Allen Moll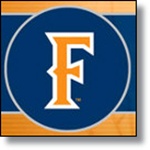 Although teams from the Big West Conference aren't always on the tip of our tongue or discussed very often by the national media, they do have some of the most athletic players in the country like CSU-Fullerton's Gerard Anderson. The 6'6 senior forward already has quite a rim rattling dunk collection on youtube, like this posterization of UCLA's Nikola Dragovic. He has one of the highest vertical leaps in all of college basketball and should be one of the front-runners to win the NCAA Dunk Contest at season's end.
During the first round of the Big West Conference Tournament, Anderson pulled off a dunk which brought back memories of Vince Carter dunking over Frederick Weis in the 2000 Olympics. You know where Carter literally leaps over the Frenchman for the one-handed jam? Quite possibly the best jam in history.
In the CS-Fullerton first round match-up against CSU-Northridge, the Titan's point guard Jacques Streeter picks up a loose ball after a flurry of blocks at the rim and feeds Anderson for what could turn out to be the best dunk in college basketball this season. Anderson rose up and over his defender for the Half-Man Half-Amazing-esque jam which made both the crowd and the announcers lose their minds. Anderson's dunk makes it virtually impossible to take a charge on the high flyer from Los Angeles.
Allen Moll is an avid NBA and College Basketball fan who watches and studies games religiously and coaches youth basketball in his native Lehigh Valley region of Pennsylvania.  Allen is a regular columnist for thehoopdoctors.com, Bleacherreport.com, UpperDeckblog.com, and his own site, Hoops Haven.
Be sure to sign-up and follow Allen, who has been chosen to participate in the 2010 Last Fan Standing College Basketball Elimination Game.  It is a NCAA Tourney game with a twist.  64 of the nation's best sports bloggers were selected, bracket style, with each getting one of the 64 teams in the tournament.  While the writers submit unique and interesting content, fans and followers have the chance to win new laptops, a weekend getaway to the Mirage in Las Vegas during Final Four weekend, or even a trip to see the National Championship Game in Indianapolis.  All you have to do is sign-up at Lastfanstanding.com and continue to visit the site and vote up Allen's articles, starting on Wednesday, March 17th, to win prizes.  The farther he advances in the brackets, the more prizes you could win!