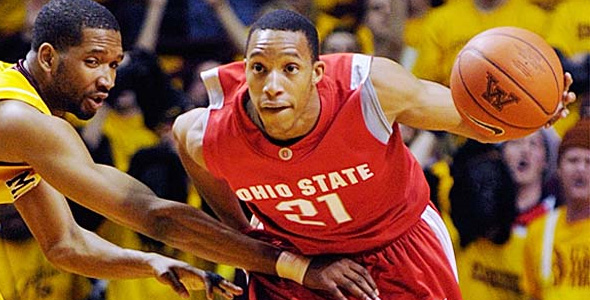 February 16, 2010 – Matt Anaya
Sorry John Wall, although you will be the number one pick in next year's NBA Draft, and you have the power to make Grandmothers across Kentucky do the "John Wall Dance", and you have your own cocktail that is now popular in Lexington (blue raspberry vodka, sour mix and Sprite), and although you clearly are so good you do not belong in college basketball, you will not be the NCAA National Player of the Year.
That prestigious award will go to the best player in the Big Ten and the nation, and that is Evan Turner.
ET's season was written off after a near devastating and season ending back injury suffered against Eastern Michigan December 5, but Turner has more than exceeded expectations, as he is the probable NCAA POY.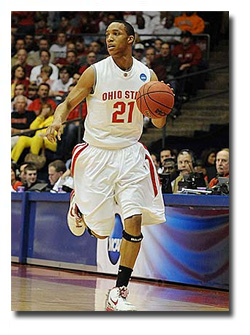 Dude is averaging a ridiculous 19 PPG, 9 RPG, nearly 6 APG, and 2 SPG and broke his back a few months ago. Turner has been so impressive he has become a near lock to enter the 2010 NBA Draft and is widely considered a top three pick.
After almost recording his third triple double of the year against Illinois on Sunday (16 points, 11 rebounds, eight dimes), you can no longer use the early season injury as an excuse against Turner's POY legitimacy.
In comparison John Wall, the only other conceivable POY candidate, is averaging 17 PPG, over 6 APG (tied for second in the nation with Demetri McCamey at 6.4), nearly 4 RPG, and 2 SPG; great stats but not great enough.
ET has dominated the Big 10 this season, including a legendary performance at No. 6 Purdue earlier this season. Turner dismantled a suffocating Boilermaker defense, scoring 32 points, including a 10-0 two minute personal run to upset one of the best teams in the nation.
Clearly, the only thing that can stop Evan Turner and Ohio State this season is injury and his Buckeyes are looking prime for a tournament run with the 2010 NCAA POY leading them.
OSU is 3-3 without their star with losses at Butler, Wisconsin, and Michigan. Those losses might prevent the Bucks from getting a top seed in the NCAA tournament, but they are currently one of the hottest teams in the nation (six game winning streak; nine game conference winning streak) and have put the entire nation on alert.
Turner has lead his team, dominating offensively and on the boards. He has also put the Buckeyes in a very good position as March nears, all the while putting himself on top of the player of the year list.
Matt graduated from Southern Illinois University at Carbondale in May of 2007 majoring in TV Production. Matt is currently a writer at StaticMultimedia.com, TheBleacherReport.com, NationalSportsNation.com, SportsMixed.com, FanFever.com, Filmcatcher.com, and TheHoopDoctors.com. Matt will provide you with insightful wit and an eager eye for sports.