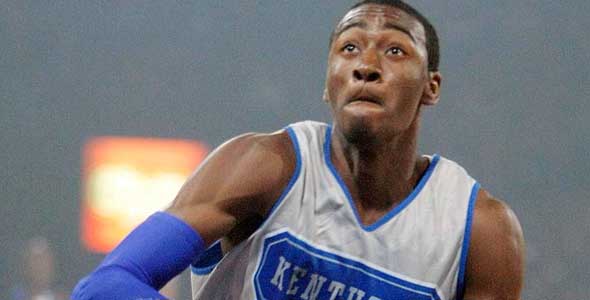 January 22, 2010 – Allen Moll
Allen Moll is an avid NBA and College Basketball fan who watches and studies games religiously and coaches youth basketball in his native Lehigh Valley region of Pennsylvania. Allen is a regular columnist for thehoopdoctors.com, Bleacherreport.com, UpperDeckblog.com, and his own site, Hoops Haven.
With the NCAA season at about midway point and teams firmly entrenched in conference play, the Hoopdoctors thought it was the perfect time to announce our Mid-Season All American Teams for the season so far. As you would expect, top players from Top 10 teams like Texas, Kentucky, and Duke make our final cuts but a few selections may come as a surprise. This is by no means a prediction of who will win our final selections at season's end, but a listing of who has performed at an elite level while helping their teams win up to the mid-season point.
First Team
Guards
John Wall, Kentucky
No other player in college basketball has been as explosive as Wall, who plays the game with the poise of a 4 year college player. While their are many factors in the revival of Big Blue basketball, he is their unquestioned leader by coming up clutch in the game's most crucial moments. As possibly the best freshman in the last 10 years, Wall is averaging 17.7 ppg, a league leading 7.1 assists, 2.3 steals, while shooting 51% from the field, and 78% from the line.
Scottie Reynolds, Villanova
He has been the best player on a Nova squad for the past 3 seasons and is now finally getting some notoriety in his senior season by leading the Wildcats to a 16-1 record which has kept them in the Top 5 all season. He has been tremendous as of late by averaging 24 ppg in keeping Nova perfect(4-0) in conference play and has the Wildcats as the early unofficial Beasts of the East.
Forwards
Wesley Johnson, Syracuse
Rarely in recent memory has a transfer entered a new program in such a tough conference as the Big East and led their team to a nearly unblemished(17-1) record. He is the Cuse's leading scorer(17.1 ppg), rebounder(8.7) and shot blocker(1.8) from the SF position and is undoubtedly in the running for National Player of the Year.
Damion James, Texas
After playing in the shadows of NBA talents like Kevin Durant and DJ Augustine, James has inherited the leadership role of the Longhorns, who until recently earned their first #1 ranking in school history. He has increased his scoring and rebounding in all 4 seasons in Austin and is among the nation's leaders in rebounding(10.8) and FG%(57%). You will be hard pressed to find another player who plays harder night in, night out than James.
Center
Luke Harangody, Notre Dame
"Gody" is the total package as a frontcourt player for the Irish but is often overlooked because his team hasn't produced wins to match his offensive production. As a former Big East Player of the Year, he is the only player in the NCAA to rank among the Top 10 in scoring, rebounding, and blocked shots and could become only 1 of 3 players to ever lead his conference in scoring and rebs for 3 straight seasons. He will leave South Bend as one of the best players ever in the history of the Big East Conference.
Second Team
Guards
John Scheyer, Duke
Coming into this season, many experts thought Kyle Singler would be the best player on a revamped Blue Devil squad this season. Scheyer has emerged from his teammates shadow as the most efficient PG in the nation, as evidence of his more than 5 to 1 assist to turnover ratio. He also has found his shooting stroke by averaging 20 ppg, 6.1 assists, and shoots 41% from behind the arc, and is in the Top 5 in the nation in FT shooting at more than 91%.
Jacob Pullen, Kansas State
As a bit of a surprise, Pullen makes our 2nd team as the leading scorer of the Top 10 ranked Wildcats. While his backcourt mate, Dennis Clemente has had higher individual scoring games(like his 44 pts in '09) in their careers, Jacob has been their most consistent performer averaging 19.5 ppg, 42% on 3 point shots and has sparked a fashion statement where most students on the school's Little Apple(Manhattan, Kansas) campus now sport his trademark scruffy beard.
Forwards
Evan Turner, Ohio State
Through the first 3rd of the season, Turner belonged on the first team but falls because of missed time from a devastating back injury. He has returned to the Buckeyes lineup and has instantly helped his squad back into the Top 25. When healthy Turner is a Wooden Award Candidate and is a likely lottery pick in the upcoming NBA Draft by leading Ohio State in scoring(18.5), rebounding(9.4), and assists(5.3).
Patrick Paterson, Kentucky
He has been the recipient of many of teammate John Wall's pinpoint passes and part of a dynamic frontcourt with DeMarcus Cousins who average a combined 19 rebounds. Paterson like Turner, is a probable lottery pick because of his ability to stretch the defense with his ability to shoot the three(43%) in addition to playing in the post.
Center
Jarvis Varnado, Mississippi State
While Varnado has waited for freshman Reynaldo Sidney to be cleared by the NCAA, he has led his Bulldogs to 1st place in the SEC West(15-3) behind his team leading 15 ppg. He also ranks in the Top 5 in the nation in rebounds(11.3) and blocks(5.1) and will become the NCAA's all time shot blocker by season's end.
Honorable Mention
Guards
Manny Harris, Michigan – leads Big ten in scoring(19.6 ppg), 5th in assists(4.5), and 4th in steals(1.8)
James Anderson, Oklahoma State – Top 10 in nation and 1st in Big 12 in scoring(21.6 ppg)
Forwards
DeMarcus Cousins, Kentucky – 3rd in SEC in rebounds(9.3) and 5th in blocks(1.8)
Al-Farouq Aminu, Wake Forest – leads ACC in rebounding(11.3) and 5th in scoring(17.6), and 6th in blocks
Center
Cole Aldrich, Kansas – Top 20 in nation in rebounding, 5th in blocks