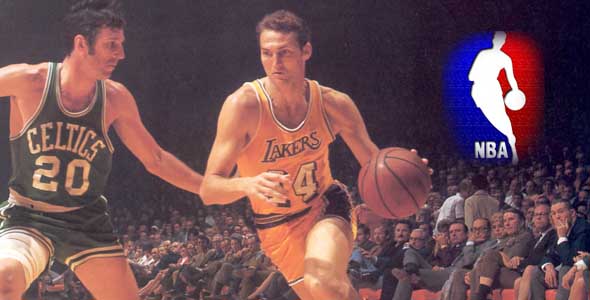 October 6, 2009 – Allen Moll
Allen Moll is an avid NBA and College Basketball fan who watches and studies games religiously and coaches youth basketball in his native Lehigh Valley region of Pennsylvania. Allen is a regular columnist for the Hoopdoctors, Bleacherreport.com, UpperDeckblog.com, and his own blog, Hoops Haven .
A player knows that they had an excellent NBA career and were the league's prototype player when their silhouette is forever used to represent the world's best basketball players in the National Basketball Association. Jerry West, known as "Mr Clutch", during his playing days with the LA Lakers during the 60's and early 70's, was the perfect choice to represent the league with his deadly jump shot, tenacious defense, and unparalleled will to win. It's hard to believe that in 1974, exactly 35 seasons ago, the great Jerry West retired from playing in the NBA.
It all started in Cheylan, West Virginia where at a young age, West took more than 100 jump shots per day at a basketball hoop that was nailed to a neighbor's shed. He honed his skills on this makeshift court in spite of it's often muddy ground and even wore gloves to continue shooting through the cold West Virginia winters. The dedication soon paid off when he grew to more than 6 feet tall and became the starting small forward for his Freshman team at East Bank High School in 1953. He was a 4 time All-State('53-'56) player, a All American selection('56), and named the 1956 WV Player of the Year as his team won the state title. In his senior year, he started using his now trademark jumpshot during crucial game moments to average 32.2 ppg and became the state's first player to score over 900 points and is considered by most as the finest player to ever come out of West Virginia.
Even though more than 60 Division 1 schools had interest in West, he chose to play college ball at the local West Virginia University. As a Freshman, his impact was felt immediately by the program as they went 17-0. On the varsity squad as a sophomore, he led the team to a 26-2 record as he contributed 17 points and 11 rebounds per game. In his Junior season, West started to show his dominance by averaging more than 26 ppg and 12 rebounds in leading the Mountaineers to the finals of the collegiate postseason, losing to the eventual champions California. He earned a number of awards including All-American and Most Outstanding Player at the Final Four by tieing a NCAA record for points in the tournament with 160 in 5 games(32 ppg). He also was selected to represent USA in the Pan American Games, where he led the team to the gold medal. His senior year can be considered one of the finest in NCAA history where he averaged 29.3 ppg and 16.5 rebounds in again earning All-American honors for his 30 double doubles and fifteen 30+ point games. He teamed with co-captain Oscar Robertson from Cincinnati to anchor the gold medal US squad in the 1960 Olympics.
West was selected #2 overall in the 1960 NBA Draft by the LA Lakers who had just moved from Minneapolis. West was the first draft pick ever by the now legendary franchise. Coach Fred Schaus, who was his college coach at WV, came to LA along with West and made a surprising move by shifting the college All-American to guard to be teamed with the future Hall of Fame forward and Laker captain, Elgin Baylor. West impressed his professional teammates with his incredible vertical leap by jumping a measured 16 inches higher than the rim, defensive hustle, and his work ethic, by continuing his additional 100+ jump shot routine after practice. By the end of his first pro season, West and Baylor started to form one of the league's best inside and outside combos. During his second year, he took over leadership of the team when Baylor was drafted into the US Army, earning his first All NBA First Team Selection by averaging 30.8 ppg, 7.9 rebs, and 5.4 assists.
The Lakers during the early years of West's tenure were much improved from their 26 wins when he arrived, even making it all the way to the NBA Finals numerous times, usually losing to the juggernaut, Bill Russell led Boston Celtics, who were much stronger inside. Since Elgin Baylor suffered through numerous injuries, West established himself as an NBA elite player, regularly averaging 30+ ppg and continuing to lead the Lakers into the playoffs. In a first round playoff series in 1965 against the Baltimore Bullets, West set a still standing NBA record by averaging 46.3 ppg for the series, as his team eventually once again lost to the Celtics.
The Lakers brought in the legendary Wilt Chamberlain to LA, prior to the '68 season, to team with West and Baylor and to battle the Boston Celtics inside dominance in the postseason. In 1969, West and the Lakers came close, but lost in 7 games to Boston even though Jerry West became the only winner of the NBA Finals MVP Award to come from the losing team. It wasn't until the 1972 season where the Lakers, led by Chamberlain and West, who averaged a career high 9.7 assists to go with 25.8 points, finally won their first ever NBA Title. The Lakers, during the regular season, went on their legendary 33 game win streak and set the then single season record 69 wins, as West set the playoff record for points with 4,002. West played only two more seasons, retiring at the age of 36, because of nagging injuries.
After his playing career was over he had a short stint as Lakers head coach before becoming general manager for the club where he is considered the architect of "Showtime" in LA, with the team winning 7 NBA Titles between '82 – '02. West then left LA to be GM of the Memphis Grizzlies where he took the team from NBA doormat to a playoff team. He stepped down in 2007 at age 69, ending 47 years in the NBA.
West undoubtedly is one of the NBA's All-Time best players with 14 All-Star Selections, 12 All NBA 1st or 2nd Team Selections, '69 Finals MVP, '72 All Star Game MVP, and a 5 time member of the All Defensive Team. He ranks in the top 25 in virtually ever offensive category All-Time. Only Michael Jordan has a higher career scoring average(33.5 to 29.1) in the playoffs. In '79 West was enshrined into the Naismith Hall of Fame and named one of the 50 Greatest Players of All-Time. West would have had more selections to the All Defensive Team but they weren't started until 1969.
He once scored 44 points(16-17 FG), 12-12 FT, 12 rebounds, 12 assists, and 10 blocks in a game, scoring an unofficial quadruple double, and stated afterwards that he wasn't satisfied with his play, he could have played better from a team standpoint on defense. This shows the ultimate team attitude and desire to win that is mostly missing in NBA players today. West was also a rarity, since he is one of the few NBA superstars who played their entire career in one city. He took his Laker teams to the postseason every season in his career making 9 Finals appearances, but winning only once.
Here is some vintage footage of "Mr Clutch":