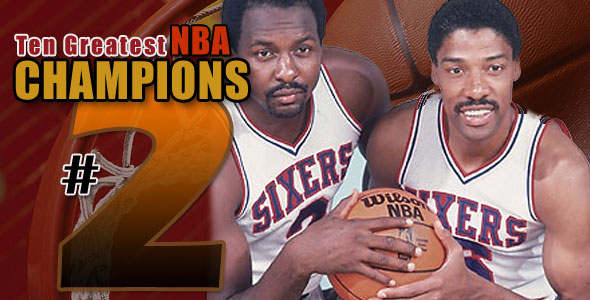 September 4, 2009 – Allen Moll
Allen Moll is an avid NBA and College Basketball fan who watches and studies games religiously and coaches youth basketball in his native Lehigh Valley region of Pennsylvania. Allen is a regular columnist for thehoopdoctors.com, Bleacherreport.com, Fanhuddle.com as a NY Knicks and Wizards correspondent, and his own blog, Hoops Haven.
With this season's NBA Finals behind us, I decided to take a look back and rank the greatest NBA Championship teams in the modern era(post 1980). This will be a ten part series with a new entry each week. Which teams had the most dominating seasons and playoff runs in the last 30 years? How would they stack up against each other? Which teams had the most Hall of Fame players or coaches? The rankings were limited to two teams per franchise in the top ten. Let the debate begin.
Starting Lineup: Maurice Cheeks, Andrew Toney, Julius Erving, Mark Iavaroni, Moses Malone
Impact Bench Players: Bobby Jones, Clint Richardson, Clemon Johnson, Franklin Edwards
Regular Season Record: 65 – 17 Playoff Record: 12 – 1 Finals: Beat Lakers 4 – 0
Individual Awards: Erving – All-Star, All Star MVP, All NBA 1st Team Selection Malone – All-Star, Reg Season MVP, Finals MVP, Rebounding Champion, All NBA 1st Team Selection, NBA All Defensive 1st Team Jones – 6th Man of Year, NBA All Defensive 1st Team Cheeks – NBA All Defensive 1st Team, All Star Toney – All-Star
#2 – '82-'83 Philadelphia 76ers
After the '81-'82 Sixers lost to the LA Lakers in the Finals, they decided that they needed another piece if they were ever going to get past annual NBA powerhouses like the Lakers out West, and their rival Celtics in the East. Since 1976, Philadelphia had perhaps the best player in the game in "Dr J" Julius Erving, but lacked the inside game to compliment him and match up against the better big men, like Kareem Abdul Jabbar and Robert Parish, that were in their way of winning an NBA title. The Sixers season had ended in either the Eastern Conference Finals or the Finals every season since 1976.
Owner Harold Katz made big changes before the '82-'83 season by trading Caldwell Jones to the Houston Rockets in exchange for perennial All-Star Moses Malone and made room on the roster by shipping Darryl Dawkins and his backboard breaking dunks to New Jersey. Philadelphia Coach Billy Cunningham finally had his dominating low post presence to match the Lakers and Celtics.
The Sixers started the regular season by winning 10 of their first 11 games and had multiple double digit winning streaks to finish a NBA best 65-17 record. They had a very balanced attack by finishing 7th in both team scoring(112.1) and points allowed(104.4). They were led by Malone(24.5ppg) and the "Doctor"(21.4ppg) in scoring, Malone in rebounding at an amazing 15.3 rebounds per game, and the reliable Mo Cheeks(6.9 assists, 2.3 steals). They accumulated a multitude of awards led by Malone, winning his 3rd regular season MVP and landing spots on the NBA 1st Team Offense and Defense. Erving, Malone, Cheeks, and the "Boston Strangler" Andrew Toney all represented Philly in the All-Star Game.
During an interview leading up to the playoffs, Moses Malone uttered his now famous prediction about their chances in the postseason by stating,"Fo, fo, and fo", meaning the Sixers would sweep 12 straight games against their opponents right onto the title. It was a bold prediction which almost came true.
Sure enough, in the first round they swept through the NY Knicks to face the Milwaukee Bucks in the Eastern Finals. They swept the first 3 games before stumbling by losing Game 4, 100-94. They quickly won Game 5 to return back to the NBA Finals for the 2nd straight, and 3rd out of 4 seasons.
In the Western Conference, the Lakers finished 58-24, and once again were the class of the conference led by Jabbar, Johnson, and a high scoring rookie named James Worthy, fresh off winning a NCAA title at UNC. Philadelphia caught a break because Worthy sustained a leg fracture with one week left in the regular season and was unavailable for the playoffs.
In Game 1, the Lakers Norm Nixon suffered a separated shoulder as the Sixers won at home 113-107. With the Lakers Bob McAdoo also hurt, the Sixers easily won Game 2 in LA, 103-93. Game 3 became a blowout after Nixon sustained another knee injury and 4 stiches to his chin as Philadelphia took a commanding 3-0 series lead by winning 111-94. The Lakers showed some fortitude by leading Game 4, 106-104 late in the 4th quarter when Erving took over with a dunk off of a steal, a 3 point play, and a one handed jumper in Magic's face in consecutive possessions to win 115-108. What made the 4 straight losses so hard to take for LA is that in every game they had the lead at halftime only to be overpowered by the 76ers down the stretch. The win gave Dr. J his first and only title in the league after winning twice while with the Nets in the ABA.
When both coaches were asked why the Sixers were so dominant compared to last season, they both simply said,"Moses was the difference". They were exactly right since he upped his regular season numbers to 26.0 ppg and an amazing 15.8 rebs during the playoffs, including one of the All-Time best performances in a Finals game with 24 points and 23 rebounds in the clinching Game 4. In the Finals, he flat out dominated Kareem, especially on the boards by a 72-30 margin, which earned him Finals MVP.
The Sixers during the late 70's to mid 80's could have been considered a dynasty, except for the fact that they won only one title. Between 1976, when they acquired Erving from the Nets, through 1987, they won 50+ games 9 times, 60+ twice, made it to the Eastern Finals or better 7 times, while making the playoffs every season. Until the '01 Lakers ran through the playoffs with a record of 15-1, Philadelphia's 12-1 playoff run was the most dominant until the league expanded the playoffs for another round.
Here is a recap of the Sixers 1983 Season: