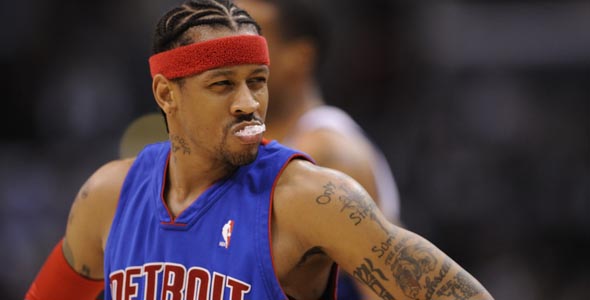 August 26, 2009 – R.S. De France
R.S. De France is a College and University instructor of English Composition. He has a B.A. in English and an M.A. in Rhetoric, Composition, and Writing. One of his life-long pursuits has been writing and covering anything related to sports, specifically the NBA. Recently, De France, his wife, and another colleague started an internationally read magazine at Shwibly.com.
A report from Dime Magazine has rumors swirling that Allen Iverson may soon join the Charlotte Bobcats, a move that should be mutually beneficial. The Bobcats need a leading man and scorer, their current leading scorer being Gerald Wallace at 16.6 ppg. Allen Iverson has made it clear he only wants to play where he can start and score and be the man. And who knows, this might just be enough to push to Bobcats over the edge and into one of the last playoff spots.
But, this does nothing for the growth of Allen Iverson as a player. After a couple failed experiments where A.I. tried to defer to others, in Denver to Carmelo Anthony and in Detroit to Michael Curry's system, Iverson seems on the verge of once again being the number one option if he moves to Larry Brown's Bobcats. This is not a done deal, but the organization told the Charlotte Observer that the deal will be signed within a week. If signed, this will, on one hand, make the Bobcats better, but, on the other, permanently halt the growth of Iverson as a player. This should let him revert back to his old ways of shooting a low percentage just to get his Hall of Fame-type numbers—his 27.1 points per game (ppg) average is fifth all-time. Shades of early Kobe Bryant, except Kobe evolved. And alas, what could have been in Miami with Iverson, Wade, O'Neil, and company.
Iverson will never be as great as any of his contemporaries who have evolved their games, with age and experience, and put themselves in position to win an NBA Championship, something Iverson apparently has no interest in doing. Here are the top ten NBA players who made the successful switch from a #1 option to a backup role:
10. Reggie Miller: Miller is a UCLA product, one of the best 3 point shooters in NBA history, and an Olympic Gold Medal winner in 1996. On the NBA franchise he helped establish, Miller shared the spotlight and even deferred to Jalen Rose when he arrived in 1999. Miller and Rose led the Pacers to their first birth in the NBA Finals.
Career 20.6 ppg
1999-2000 18.1 ppg
Result: NBA FINALS
9. Alonzo Mourning: Mourning was a staple of this franchise, and was its best known player before the drafting of Dwayne Wade. A threatening defender, rebounder, and dunker, Mourning was also a member of the 1996 Olympic Gold team. After bouncing around the league upon returning from a kidney transplant, Mourning returned home to Miami as a back up to Shaquille O'Neil and Dwyane Wade on their way to the NBA Championship in 2006.
Career 17.1 ppg 2.8 bpg
2005-2006 7.8 ppg 2.7 bpg
Result: NBA FINALS
8. Jerry Stackhouse: Leading the league in scoring as a member of the Detroit Pistons in 2000-2001 with 29.8 ppg, Stackhouse was hampered by a knee injury the next few years, finally ending up playing a sixth man role on Nowitzki's Dallas Mavericks. It's not all bad for Stackhouse, though. He played a key role on this team when they made their infamous 2006 run to the NBA Finals.
Career 18.4 ppg
2005-2006 13 ppg
Result: NBA FINALS
7. Gary Payton: After appearing in the NBA Finals in '04 with a talented, yet volatile Los Angeles Lakers team, which featured Malone, Bryant and O'Neil, Payton was traded to the Boston Celtics. In 2006, Payton signed with the Miami Heat where, behind Wade, he would find redemption for his two NBA Finals losses (Los Angeles in '04, Seattle in '96). Payton hit some clutch shots and his veteran experience helped Miami get through some tough spots in that run.
Career 16.3 ppg 6.7 apg
2005-2006 7.7 ppg 3.2 apg
Result: NBA TITLE
6. Karl Malone: Utah's iron man united with John Stockton to lead the Jazz to two straight NBA Finals appearances. After eighteen solid and injury-free seasons, Malone left for the Los Angeles Lakers for the '03-'04 season. Although they made it to the NBA Finals, for Malone's third loss, a Malone injury prevented him from helping the Lakers further.
Career 25.0 ppg 10.1 rpg
2003-2004 13.2 ppg 8.7 rpg
Result: NBA FINALS
5. Ray Allen: one of the best three point shooters of all-time and beloved player in Seattle, Allen left the losing Supersonics for the Boston Celtics the same summer when they signed Kevin Garnett. With Paul Pierce still at the helm, Garnett and Allen relegated themselves to supporting roles for the betterment of themselves, their careers, and the team, resulting in the NBA Championship in 2008.
Career 20.9 ppg
2007-2008 17.4 ppg
Result: NBA TITLE
4. Lamar Odom: Odom played the leading man for the Los Angeles Clippers until he was traded to the Miami Heat. Traded for Shaquille O'Neil, Odom returned to L.A. where he would be the number two man behind Kobe Bryant. After playing several seasons behind Bryant, '08 presented Odom with a new challenge—coming off the bench for the first time in his career. Not only did Odom accept this role, he grew into it and ended up succeeding, either from the bench when Andrew Bynum was healthy, or as a starter when he was injured. This most versatile of players has demonstrated that he can deal with a variety of situations.
Career 15.1 ppg
2008-2009 11.3 ppg
Result: NBA TITLE
3. Rasheed Wallace: Once the Portland Trailblazers' short era of challenging the Los Angeles Lakers for the Western Conference was finished, the Blazers sent their leading scorer Wallace to the Detroit Pistons in the '03-'04 season. No longer number one, Wallace backed up Richard Hamilton and Chauncey Billups. The addition of Wallace helped these Pistons go on to win the NBA Finals that season.
Career 15 ppg
2003-2004 13.7 ppg
Result: NBA TITLE
2. Pau Gasol: Gasol was the leader of the 2006 FIBA World Championship Spanish team. Since coming into the league, Gasol had led the floundering Memphis Grizzlies in points and rebounds. However, like Garnett the year before, Gasol was sent to the Los Angeles Lakers, where he would be a fitting number two to Bryant. Since acquiring Gasol, the Lakers have made two trips to the NBA Finals, winning in 2009.
Career 18.8 ppg
2008-2009 18.9 ppg
Result: NBA TITLE
1. Shaquille O'Neil: One of the most dominating physical presences in the league since Wilt Chamberlain, O'Neil entered the league dominating opponents, breaking backboards and destroying baskets. In Orlando and Los Angeles, O'Neil was the feature, he stole the show. He helped the Magic to their first Finals birth and then, with Kobe Bryant, led the Lakers to three consecutive NBA Championships. As his physical dominance began to decline, he was traded to the Miami Heat, where he would be the number two option to budding superstar Dwayne Wade on their way to the 2006 title.
Career 24.7 ppg 11.2 rpg
2005-2006 20.0 ppg 9.2 rpg
Result: NBA TITLE
One player who won't win a title and, will probably never be on this list: Allen Iverson.
Honorable Mention
Jason Kidd
All-time
Wilt Chamberlain
Clyde Drexler
Dikembe Mutombo