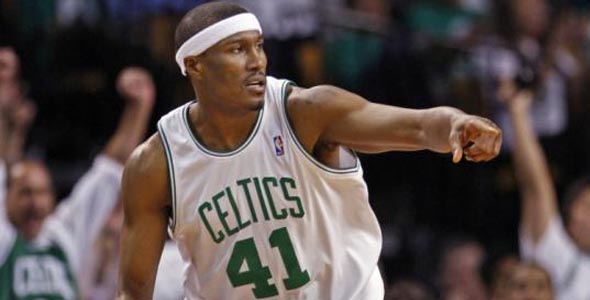 August 3, 2009 – Allen Moll
Allen Moll is an avid NBA and College Basketball fan who watches and studies games religiously and coaches youth basketball in his native Lehigh Valley region of Pennsylvania. Allen is a regular columnist for TheHoopDoctors.com, Bleacherreport.com, Fanhuddle.com as a NY Knicks correspondent, hoopsworld4.wordpress.com, and Helium.com.
With news of Bruce Bowen, who is maybe the greatest "glue" player of this decade, being placed on waivers by Milwaukee, I decided to create a list of the NBA's best team players who help hold their squad together. Whether as a starter or coming off the bench, these players were vital to their team's success while not being one of their team's top two scorers. Players on this list were pivotal to their squad's winning or losing through veteran leadership, diving for loose balls type hustle, unselfish play, ball hawking defensive intensity, or just having a penchant for knowing what the other team is going to do next.
All Glue First Team
Guards
Derek Fisher, LA Lakers
–The veteran point man provided leadership and clutch presence by keeping opposing teams defense honest by knocking down numerous outside jump shots and doing his best defensively to keep opposing point guards like Parker and Paul from going off on a nightly basis.
Ronnie Brewer, Jazz
–In only his third NBA season, Brewer took some pressure off of Boozer and Williams by doing a little of everything including averaging 13.7 points, shooting over 50% while patrolling the passing lanes and grabbing 1.7 steals which ranked 6th in the NBA.
Forwards
James Posey, Hornets
– Although not a stat stuffer, Posey has proved to be the ultimate team player by providing clutch shots and pressure defense in winning NBA titles with Miami in '06 and Boston in '08 and is now a veteran presence for New Orleans, averaging 8.9 points and 4.8 rebounds.
Kenyon Martin, Nuggets
-While never living up to being the #1 draft pick in 2000, "K-Mart" has learned to control his emotions by providing valuable minutes and playing aggressive defense on the opposing team's power forward for Melo, Nene, Billups, and a stacked Nuggets team.
Center
Andris Biedrins, Warriors
-The Warriors big man tagged "One Minute Man" for his penchant of picking up fouls within his first minute of play, is quietly becoming one of the NBA's mos underrated players by posting 11.9 points, 11.2 rebounds and 1.5 blocks. He provides great help defense and rebounding for a young team in need of a low post presence.
All Glue Second Team
Louis Williams, Sixers
– Lou is as speedy as they come. He's a ball thief with a knack for getting into the seams and tearing up your defense. He is strong on both sides of the ball and is well liked by all his teammates. It's only a matter of time and maturity before he becomes a leader off the floor as well.

Dahntay Jones, Pacers –
The 6'6 defensive specialist will be valuable for Jim O'brien's Pacers who are known for putting up points and not playing a whole lot of D.
Tayshaun Prince, Pistons
-Prince has given whatever is needed on either sides of the ball for the Pistons for 7 seasons and is a regular on the NBA All Defensive Team. He would have been on the first team but Posey has won more NBA titles.
Anderson Verajao, Cavaliers
-The 5 year pro adds timely scoring, rebounding, and defense to the three man, big man rotation, along with big Z and Shaq, in Cleveland
Joel Pryzbilla, Blazers
-The 7'2 center, nicknamed "Vanilla Gorilla," does just that, providing strong willed rebounding and shot blocking off the bench for a young and talented Portland squad.
Honorable Mention
Shane Battier, Rockets
Kendrick Perkins, Celtics
Marcus Camby, LA Clippers
Chris Anderson, Nuggets
Grant Hill, Phoenix
Trevor Ariza, Rockets
Andre Kirilenko, Jazz
Antonio McDyess, Spurs
Louis Scola. Rockets