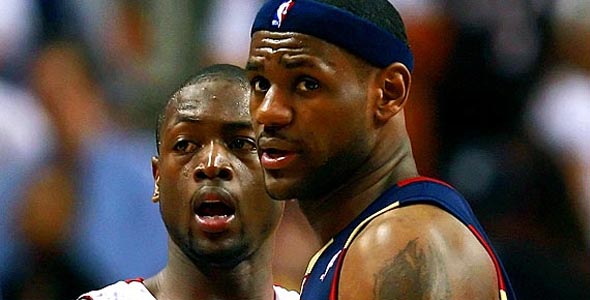 August 6, 2009 – Allen Moll
Allen Moll is an avid NBA and College Basketball fan who watches and studies games religiously and coaches youth basketball in his native Lehigh Valley region of Pennsylvania. Allen is a regular columnist for TheHoopDoctors.com, Bleacherreport.com, Fanhuddle.com as a NY Knicks correspondent, hoopsworld4.wordpress.com, and Helium.com.
Since this offseason has been less than spectacular, we should take a closer look at the much hyped Lebron/Wade/Bosh sweepstakes of next Summer. Many teams this year have been dumping salaries in the hopes of stockpiling major cash to land one of the prized free agents of '10. What happens if this season's free agency moves influence the big three's decision on whether to opt out, or not, of the last year of their contracts? Let's take a look at each players' individual situation.
Because Cleveland is in win now mode, Cavalier management has been adding supporting players like Shaquille O'Neal, to surround Lebron and to push them closer to winning a championship. Most players that they have signed have been multiyear deals like Jamario Moon(2yrs), Anthony Parker(2yrs), and Anderson Varejao(6yrs). If the Cavaliers can prove to Lebron that even in a smaller market, they are capable of spending and being a yearly contender, maybe he will sign an extension or decide not to opt out at the end of next season. In this scenario, James would become a free agent in the Summer of '11.

Chris Bosh is in a similar situation as James, in Toronto. The Raptors have also brought in players to surround their superstar, like Hedo Turkoglu, to show that they are committed to putting a winning team on the floor. There have even been rumors of reuniting Bosh with former Olympic teammate Carlos Boozer, via trade, to entice their best player to not opt out in "10, or resign with the Raptors. Bosh, in this case, would also become a free agent in 2011. Although Toronto is one of the bigger NBA cities in terms of population, it is hardly considered a basketball mecca like New York or Chicago. They were barely on the NBA landscape when Vince Carter and Tracy McGrady were making the playoffs. That is why Bosh will eventually leave Canada no matter what Raptors management does. The lure of bright lights, shoe and clothing deals, and unlimited money is to much for one of the league's most underrated players.

Dwayne Wade is probably the most likely out of the big three to become a free agent next season since his team, the Miami Heat, did the least to improve so far this offseason. Since they lost out on Lamar Odom, the Heat have also been rumored to be interested in trading for Carlos Boozer, which may be a deciding factor in Wade's staying in Miami or testing the free agent waters next Summer. Wade, since already winning an NBA title in '06, may be enticed to go back to his hometown and join a team that is a player or two away like the Chicago Bulls.

The Summer of 2011 could get even more interesting since Carmelo Anthony could also become a free agent if he exercises his early termination clause in Denver. Other key free agents that Summer could include Yao Ming, Tony Parker, and Pau Gasol. Restrictive FA players could also potentially be Greg Oden and Kevin Durant.

Of the teams that would have the most money to spend, the New York Knicks are in even better shape in 2011 since the contracts of Eddie Curry and Jared Jefferies are set to expire. New York's total salary for the '11-'12 season would be just barely over $8 million. The only players under contract would be Jordan Hill, Toney Douglas, Danilo Gallinaro, and Wilson Chandler. Another season would enable the Knicks to add a 2nd and a possible 3rd scoring option in '10 from "B" level players like Richard Hamilton, Joe Johnson, or Ray Allen, to go along with James in '11.

In my opinion, the best choice for James would be to wait until 2011 since Cleveland is his best chance to win now. Although the salary cap is set to decrease next season, waiting another year may be a financially sound move because it gives the volatile economy a chance to recover and may improve any potential endorsement deals. The money will be there wherever he goes since teams will shovel boatloads of cash towards a once in a generation type player like King James, but in his quest to become the greatest player ever, and officially be mentioned in the same breath with Kobe and Jordan, Lebron knows he must go to the team that gives him the best chance to win NBA Championships.