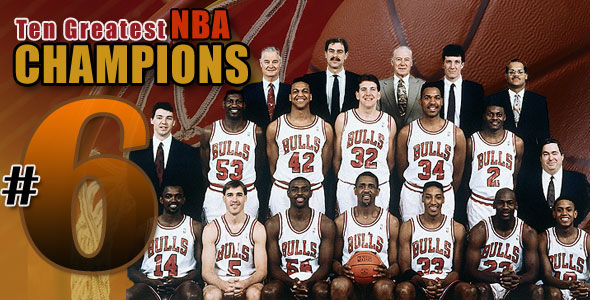 August 10, 2009 – Allen Moll
Allen Moll is an avid NBA and College Basketball fan who watches and studies games religiously and coaches youth basketball in his native Lehigh Valley region of Pennsylvania. Allen is a regular columnist for TheHoopDoctors.com, Bleacherreport.com, Fanhuddle.com as a NY Knicks correspondent, hoopsworld4.wordpress.com, and Helium.com.
With this season's NBA Finals behind us, I decided to take a look back and rank the greatest NBA Championship teams in the modern era(post 1980). This will be a ten part series with a new entry each week. Which teams had the most dominating seasons and playoff runs in the last 30 years? How would they stack up against each other? Which teams had the most Hall of Fame players or coaches? The rankings were limited to two teams per franchise in the top ten. Let the debate begin.
#6 – 1991 Chicago Bulls
Starting Lineup: BJ Armstrong, Michael Jordan, Scottie Pippen, Horace Grant, Bill Cartwright
Impact Bench Players: John Paxson, Craig Hodges, Will Perdue, Stacy King, Cliff Levingston
Regular Season Record: 61-21 Playoff Record: 15-2 Finals: Beat Lakers 4-1
Individual Awards: Jordan – Regular season and Finals MVP, All NBA 1st Team, All Defensive 1st Team, All Star, Scoring Champion Pippen – All Defensive 2nd Team
Michael Jordan gave us many memorable moments that are forever stuck in our minds in his illustrious NBA career. Maybe the most memorable image in my head is MJ sobbing uncontrollably while clutching his first NBA Championship trophy. Many fans forget that Jordan, before '91, was criticized in much of the same fashion that Lebron James does today. His Airness finally let all of his emotions and frustrations over the criticisms go when handed the golden globe of basketball. The year was 1991, and it was the beginning of the Chicago Bulls dynasty that would continue throughout the latter part of the decade.
The '90-'91 Bulls were finally starting to gel after retooling their lineup to better compliment their All World shooting guard Jordan. In the previous two seasons, the Bulls had proven to be good but not great, by having their seasons ended by the Bad Boys of basketball, the Detroit Pistons in the playoffs. Over those two offseasons, they traded rebounding and defensive force, Charles Oakley, to the Knicks for scoring big man Bill Cartwright and a draft pick which wound up being Will Perdue. BJ Armstrong and Stacy King, who was a big time scorer at Oklahoma, were brought in through the draft, and Doug Collins was replaced at coach with Phill Jackson. That Bulls team was the perfect example of a team gelling at the right time by winning 11 in a row and then 20 of 21 games from mid February through the Finals in June. The Bulls ranked 7th in offense at 110 points per game and 4th in defense led by All NBA Defensive Team selections Jordan and Pippen.
Heading into the playoffs, Jordan had just won his 5th straight scoring title by averaging 31.5 points. Chicago was absolutely dominating in the early rounds by besting Ewing and the Knicks 3-0, Barkley and the Sixers 4-1, setting up a rematch with their nemesis, Detroit Pistons. In the Eastern Finals, the Bulls finally figured a solution to the Jordan Rules, which were a set of rules to shut down MJ and designed by the Pistons, by sweeping Detroit 4-0. The team from Motown was so ungracious that the entire team left the court before the final 8 seconds were off the clock in game 4 and refused to congratulate the Eastern Champion.
The Finals were billed as a matchup of the game's two biggest stars in Magic Johnson and Michael Jordan. While Magic used his 29th career playoff triple double to get the early series lead by winning game 1, the Bulls behind Pippen's defensive lockdown of Magic and Jordan's amazing highlight reel switch of the hands layup over Sam Perkins won Game 2 in a blowout 107-86. The Bulls swept all three games in LA and the clinching Game 5 back at home which was made easier by an injury to Worthy. Chicago got great help from its supporting players like Scottie Pippen who averaged 20.8 pts, 9.4 reb, and 6.6 assists and John Paxson who averaged 13.4 points and shot a blistering 65% from the field with perhaps none bigger than his now famous long range jumper which broke a tie late in Game 5. Jordan was the unanimous MVP of the Finals by averaging 31.2 pts, 11.4 assists, and 6.6 rebounds. Many fans viewed this as Magic and the team of the 80's( Lakers) passing of the NBA torch to Jordan and the team of the 90's(Bulls). By riding one of the greatest playoff runs in NBA history at 15-2, which rivals the '01 Lakers(15-1) and the '83 Sixers(12-1), the Bulls won their 1st of 6 NBA Championships.
Here is some footage of da Bulls in the clinching Game 5 of the '91 Finals: