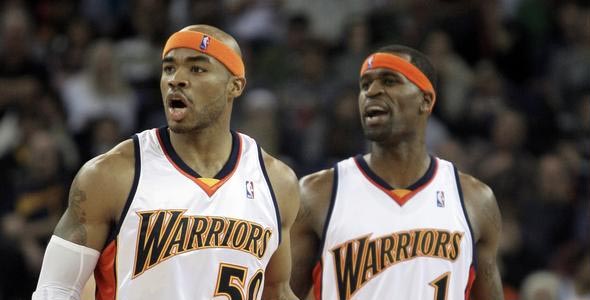 July 21, 2009 – Allen Moll
Allen Moll is an avid NBA and College Basketball fan who watches and studies games religiously and coaches youth basketball in his native Lehigh Valley region of Pennsylvania.
Don't look now, but a California based team who drafted one of the most exciting NCAA players in recent memory has aspirations of making the playoffs next season. No, it is not the LA Clippers, but possibly the youngest NBA team in terms of experience, the Golden State Warriors. Although the Warriors finished a dismal 29-53 and in 3rd place in the Pacific division, they did have a winning record at home. After a few on and off the court changes, they could be a team to make some noise in the 09′-10′ season.
Before the NBA draft, several moves were made to jump start this young and exciting team that seems stuck in mediocrity or worse for the last few seasons. Starting with the front office, former Warrior legend, Chris Mullen was left go as GM, and replaced by Larry Riley. The new GM quickly started altering the team by trading Jamal Crawford, a 19 ppg scorer to Atlanta for 3rd year point guard Acie Law, and 11 year veteran Speedy Claxton. Although this could be a cost cutting move, Law could become a valuable back up at the point since 2 years ago he was worth the #11 pick in the draft out of Texas A&M. The real coupe was drafting former Davidson sharpshooter, Stephen Curry, #7 overall in this year's draft. While many scouts weren't sure if he could handle playing the point in the pros, it is undeniable that the kid knows how to put the ball in the basket averaging over 28 ppg in his senior season. The new GM has so much confidence in Curry that he nixed a draft day trade to acquire the Sun's Amare Stoudamire for Curry.
The young Warriors have been the talk of the Las Vegas Summer League with two players setting new scoring records with 2nd year players, Anthony Randolph scoring 42 points, then teammate Anthony Morrow racking up 47 in one game. The trio of Randolph(26.8), Curry(17.4), and Morrow(10.1) has been impressive this Summer playing against other NBA newcomers.
That trio is surrounded by a few underrated veterans, namely leading scorer Stephan Jackson, who has found a home with the Warriors, averaged 20.2 points, 6.5 assists, and 5 rebounds. Jackson, a 9 year veteran just needs to learn to control his emotions. Corey Maggette, who hasn't quite lived up to the hype of being the #13th pick out of Duke 10 years ago, is a steady 16-18 ppg scorer when healthy. Maggette, who had off-season wrist surgery should be ready by August 1st to resume basketball activities. Kelenna Azubuike, a 3rd year player from Kentucky has steadily increased his numbers in each year to 14.4 ppg last season.
The true diamond in the rough may be former 2nd round pick in 05′, point guard Monta Ellis. The 4 year pro, signed a 6 year, $66 million dollar contract in 08′ after averaging 20.2 points. Last season he averaged 19 points in only 25 games because of a 30 game suspension and injuries sustained from a moped accident. On the defensive front, Ronny Turiaf led the team with 2.1 blocks.
There's no denying the Warriors are on the right track as far as scoring the basketball but the real test for Hall of Fame Coach Don Nelson will be defense. The upstart Warriors ranked among the leagues worst in defensive categories among NBA teams last season. They may need another veteran player to direct all of their young talent as evidence of their decent record at home and horrendous 8-33 on the road. Even in a tough Western Conference, "Nellie" just might be the perfect architect to motivate these young Warriors to play a little defense and sneak into the 2010 playoffs.