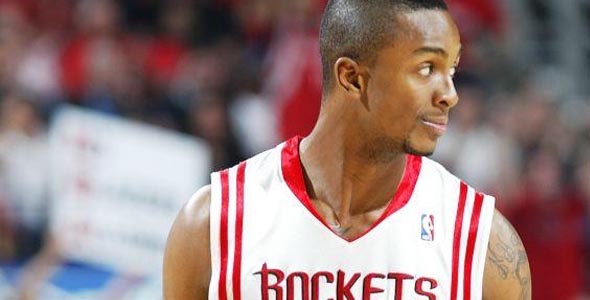 July 16, 2009 – Matt Anaya
Matt graduated from Southern Illinois University at Carbondale in May of 2007 majoring in TV Production. Matt is currently a writer at StaticMultimedia.com, TheBleacherReport.com, NationalSportsNation.com, SportsMixed.com, FanFever.com, Filmcatcher.com, and TheHoopDoctors.com. Matt will provide you with insightful wit and an eager eye for sports.
Although many free agents have signed, there still remains a bevy of talented players looking to find a place to play the next few years. Veterans like Allen Iverson, Andre Miller, and Lamar Odom will most likely have a place to play in the very near future but most players are still waiting for a few dominoes to fall before they can make their decision.
The top unrestricted players, other than the aforementioned vets, that have yet to be signed are:
1. Von Wafer
Like most Houston Rockets, Von Wafer's play improved dramatically when T-Mac went down with injury. Wafer has great size as a 6'5″ SG and put up career highs across the board including making a name for himself as a marksman from long range (40%). He was a highly recruited high school prospect, coming out the same year as LeBron and may have finally tapped into his potential.
2. Drew Gooden
Ever since being the fourth overall pick in the 2002 Draft, expectations have been high for Drew Gooden. He has not lived up to those lofty expectations, and although he is one of the worst defenders in the league he is still a coveted skilled big man. Like most of the players waiting for offers, Gooden is waiting for a few teams to make decisions about other player personnel and may have to wait another month or so before he gets a deal. There aren't a lot of teams with money left but maybe Detroit and their lackluster frontcourt will make an offer. The Memphis Grizzlies also have plenty of salary cap space available.
3. Gerald Green
Gerald Green has not done much in the NBA but he still has loads of potential and some teams may consider him another draft pick since he is only 23 years old. Green was the top high school player in the nation a few years back and will still gain interest from teams around the league. I think he will be a good player in five years but may have to ride the pine in the NBA for a few more years.
4. Rodney Carney
Rodney Carney averaged career highs in PPG, SPG, BPG, FT%, 3PT%, and MPG this past season for the Minnesota Timberwolves. He is only 25 years old and there are limits to his game but he will be a good role player and will provide instant offense a la J.R. Smith or Eddie House for the foreseeable future.
5. Chris Wilcox
Chris Wilcox is every coach and scout's dream or nightmare, as he is an extremely athletic and skilled 6'10" PF but has not done much with his talents (i.e. Lamar Odom and Zach Randolph). Wilcox has proven when provided with the minutes he can average 14 and 8 but has not received the minutes the last two years.
Honorable Mention:
Marquis Daniels, Keith Bogans, Jarron and Jason Collins, Ike Diogu, Juan Dixon, Joey Graham, Rashad McCants, Joe Smith, Robert Swift, Wally Szczerbiak, Flip Murray, Matt Barnes
Others:
Alex Acker, Maurice Ager, Morris Almond, Maceo Baston, Calvin Booth, Bruce Bowen, Ryan Bowen, Anthony Carter, Melvin Ely, Adonal Foyle, Thomas Gardner, Stephen Graham, Jason Hart, Luther Head, Walter Herrmann, Juwan Howard, Othello Hunter, Royal Ivey, Bobby Jackson, Damon Jones, Fred Jones, Brevin Knight, Rob Kurz, Raef LaFrentz, Tyronn Lue, Jamaal Magloire, Stephon Marbury, Sean Marks, Donyell Marshall, Cartier Martin, Desmond Mason, Sean May, Mikki Moore, Rasho Nesterovic, Kevin Ollie, Johan Petro, Leon Powe, Shavlik Randolph, Theo Ratliff, Jeremy Richardson, Malik Rose, Michael Ruffin, Kareem Rush, Cedric Simmons, Sean Singletary, Brian Skinner, Joe Smith, Robert Swift, Stromile Swift, Ime Udoka, Jacque Vaughn, Jake Voskuhl, Shelden Williams, Lorenzen Wright
Teams with cap room:
Memphis, Detroit, Minnesota, New Jersey, Oklahoma City, and Portland.