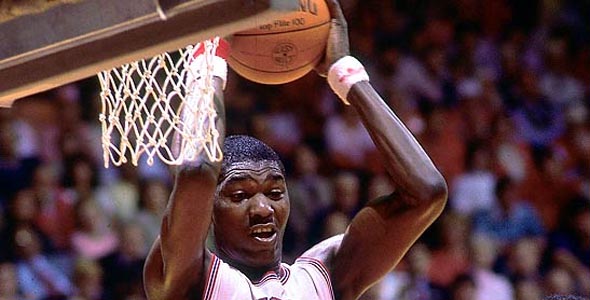 June 19, 2009 – Dr. J-Water
Throughout the whole Lebron vs. Kobe debate that took place during the playoffs, I was amazed at how often people focused in on their offensive skills and attributes, and how little people talked about how good these guys were defensively. They are both stoppers, probably stemming from the MJ effect of 'hating to lose with a passion'.
It got me thinking. Who are the greatest defensive players of all-time in NBA history? Well, I had some chats with friends, and decided to put together a Top 10 list. Feel free to let me know who is missing. Some near misses were Moses Malone, Mark Eaton, Mo Cheeks, Scottie Pippen, etc.
10. Alonzo Mourning


If there was a definition for 'intensity' would you not expect to find Alonzo Mourning's name in there somewhere? How about the word 'Warrior'? This guy was an absolute beast on the defensive end. Although his offensive game was adequate, yet limited, he more than made up for it on the defensive end. He played with a purpose, and that was to shut people down. He seemingly put a lid on his teams basket. Most folks are aware of Alonzo's kidney transplant that sidelined him for a few years, and about his almost miraculous comeback to the top with the Miami Heat. Keeping all of the missed games and limited minutes due to his health situations in mind, Mourning still is 10th all-time in blocked shots with 2,356. Even more impressive considering his limited minutes per game, he is 6th all-time in blocks per game at 2.81 over the course of his career. Simply astounding, Mourning is an inspiration, and one mean and intense defensive master. Alonzo is also a 2-time defensive player of the year recipient.

9. Ben Wallace
Some may question this pick for the top 10 of all-time due to the fact that Big Ben doesn't make any NBA all-time leaders list in blocks, steals, or rebounds. In fact the only notable list he makes in the defensive area is the top 25 in blocks per game at just over 2 for the course of his career. But anyone who has followed his career realizes that there is not one player in NBA history that has dominated the defensive end in a period of 5 years as Ben Wallace did from 2001-2006. In that stretch he won the NBA Defensive Player of the year award 4 times (2002, 2003, 2005, 2006). During that stretch he also was either the leader or second in the league in both blocked shots and rebounds. Ben has surprisingly quick hands and was often getting as many if not more steals per game than blocks in that stretch. All of this from a player that NEVER got drafted to the NBA, instead had to work his way into the league. Ben, you are more than deserving of making the all-time defensive list in our books.
8. Bill Russell


If there was ever a 'kryptonite' for the original superman, Wilt Chamberlain, it was Bill Russell. Wilt could simply not be stopped, unless he was going head to head with Russell. The road to the title in those days went through Bill Russell, and only a very select few got through him. Although they didn't record blocks back when Bill Russell and Wilt Chamberlain were playing in the NBA, there are some tremendous stories circulating, among those who were fortunate enough to see them play live, that both giants blocked shots by the dozens. Although we have to take our elders word for it, they both did enough on defensive rebounds alone to land them on this list. Russell averaged 22.5 rebounds per game over the course of his career, which is more than 11 per game over the third all time on that list. The Celtics were a very tough team to score on in those days, and it all started and ended with Russell anchoring the paint.

7. John Stockton
Just on one factor alone you can put Stockton virtually anywhere on this list. Steals. The guy was the master of thievery. He has the NBA All-time record for steals at a mind-numbing 3,265 total steals over the course of his career. That is more than 700 more steals than MJ had in second place on that list. I wish there were more accurate numbers on charges taken by a guard as well. Because if there were, Stockton surely would be a top that list as well. The guy is the most unselfish player to ever grace a basketball court. Everyone knows this about his passing, but he would also sacrifice his body on countless plays to get a change in possession for his club. And given how long and healthy he was over the course of his career, talk about durable!
6. Dikembe Mutombo


If there was one prototype for a shot blocking machine, it would certainly look a lot like Dikembe Mutombo. He was built to block shots. His length, leaping ability, timing, and his wagging finger in the face of opponents after he shuts them down are what I always think about when people talk best shot blockers of all-time. Mutombo is second all-time on the total blocks list with 3,289, and has won the defensive player of the year award a record 4 times (tied with Ben Wallace). Mutombo led the league 5 times in total blocks, 4 times in total rebounds, and 2 times in defensive boards. Mutombo is certainly the scariest guy to be facing as an opposing guard driving into the paint. He has made a career of erasing the mistakes of his teammates at the rim.

5. Michael Jordan
MJ is definitely not the best defensive player to ever play the game. But given his will to win, and inability to accept losing, are probably the driving factors in his success as a defender. The intensity with which MJ played defense was motivating. He literally made playing defense and shutting down opponents 'cool' for guards. In the modern game, Josh Smith and Lebron James are often on highlight reels for hustling back on defense and erasing mistakes by blocking wide-open opposition lay-ups off the backboard. Well you can thank MJ for that, as he basically invented those highlights. MJ was the NBA's defensive player of the year in 1988, and has the record 9 times on the NBA All-defensive First Team. Jordan is also second to only John Stockton on the All-time Steals list with 2,514 career steals.
4. Wilt Chamberlain


Wilt the stilt will probably be remembered for being the most dominant scorer the NBA has ever seen. His career and season per game averages in scoring are astounding. What people often forget is how much he changed the game defensively. He is the all-time leader in rebounds with a mind-blowing 23,924. They didn't record blocks in his era, however rumor has it that Wilt would sometimes have upwards of 20 blocks in a single contest. The NBA didn't start giving out the Defensive Player of the Year award until 1982, otherwise Wilt may have racked up quite a few of these to go along with his 4 NBA MVP awards.

3. Gary Payton
When this list was being constructed, the first players to come to mind were big men. The big fellas blocking shots and securing possessions with defensive rebounds are the first natural thoughts when talking about defense. But if there was one player that revolutionized the way we think about the top defensive players, it was Gary Payton. In fact he was even nicknamed 'The Glove' due to his ability to cover and wrap up opposing point guards like a baseball in a glove. A lot of guards will anticipate poor passes and fill the passing lanes for steals. Gary not only did that with great success, but where he differed from many guards was in his ability as an on-the-ball defender. He literally could shut down players at either the 1 or 2 position on any given night. Gary is third all-time on the NBA's steals list with 2,445 career steals. Payton shares the record with Michael Jordan as the player with the most selections to the NBA's all-defensive first team, at 9. Probably the most telling factor however for his dominance as a defender, Gary Payton is the only point guard in NBA history that has ever received the NBA Defensive Player of the Year award.
2. Kareem Abdul-Jabaar


Due to the fact that KAJ is the All-time leading NBA scorer, people sometimes forget about just how good he was at the other end of the court. Kareem was an animal on the glass, and could change shots with the best of them. He was super long and although not bulky could hold his ground and block shots against even the biggest of opposing centers. Until just recently Kareem Abdul-Jabaar was second all-time in blocks with 3,189 before being surpassed by Dikembe Mutumbo. Kareem is also third all-time in total rebounds, and secured more than 9,300 defensive rebounds during his career. For those that followed his career closely, they would recognize most his ability to turn it up in close games and basically shut down the opposition from scoring in the paint.

1. Hakeem Olajuwon
Hakeem Olajuwon finished his career as the NBA's All-time leader in blocked shots with 3,830. That is almost 700 more blocked shots than the second place in total blocks, Dikembe Mutombo. That in itself would make Hakeem 'The Dream' worthy of our first spot as the best defensive basketball player of all-time. But there is something even more compelling about Olajuwon's defensive abilities. He is 8th on the NBA's All-time steals list, with 2,162 steals! That is very rare for a big man, in fact as evidence of this there is not even one other Center that has cracked the top 25 of the all-time steals list. Hakeem is also 11th on the All-time rebounds list. Between all the blocks, steals, and rebounds that Hakeem Olajuwon has logged think about how many 'new' possessions he has secured for his team without the opposition scoring! No wonder the Rockets won those NBA Championships.