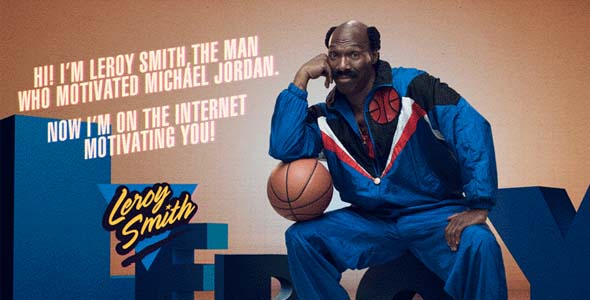 June 2, 2009 – Dr. Dime
Have you ever sat back and wondered how Michael Jordan became so great? Well apparently according to Nike's latest viral marketing campaign (we're not quite sure yet what exactly they are marketing), the person who motivated MJ was none other than 'Leroy Smith'. The way Leroy tells it, he was the last person taken on Michael Jordan's Varsity High School Team at Laney before Jordan was eventually cut, which therefore inspired MJ to be as great as he was.
Leroy Smith wants to inspire you. He wants you to "motivize, pulverize, realize!". Whatever the hell that means. Then again I don't really care what it means, because it's damn funny. At first glance you may even mistake this guy for Eddie Murphy. He's a dead ringer. Or his brother, Charlie Murphy. Regardless, I can't wait to see more of this Leroy Smith. If you want more information just visit his actual live website at www.getyourbasketballon.com. No joke.