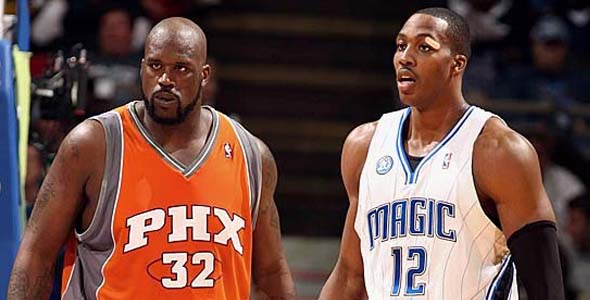 June 3, 2009 – Dr. Browntorious
In 1995 when Shaquille O'Neal led the Orlando Magic to the NBA Finals to represent the Eastern Conference, he was a brand of Center that no one had ever seen before. He had the strange combination of size, quickness, and skill that allowed him to dominate his competition in the paint. Heading into that finals between the Orlando Magic and Houston Rockets, everyone was buzzing about the match-up of Shaq against Hakeem Olajuwon. It was likened to the battles in the '60's between Bill Russell and Wilt Chamberlain. Although Shaq played great in those finals and averaged 28 points per game, he was outclassed by Olajuwon who averaged 33 points per game, and clearly had the better supporting cast. The Rockets swept.
O'Neal has gone on to win 4 NBA Championships since then and has solidified himself as one of the greatest big men of all-time. Fast forward to the present. Dwight Howard has been dominating the paint for the Orlando Magic all season long and has led them to the NBA Finals to start tomorrow. Howard also has that freakish combination of size, speed, and athleticism. Although he's got a long way to go to become as skilled and dominant offensively as Shaq once was, we can at least think about '09 Dwight Howard vs. '95 Shaquille O'Neal, right?
They have both been called 'Superman'. Is there one of them that is more 'super' than the other in the comparison? Former Magic Coach Brian Hill is in the unique position of having coached both of them during his time with the Magic. Have a listen to what he thinks about the comparison in this ESPN video, and let us know who you think is the better player during that specific time.