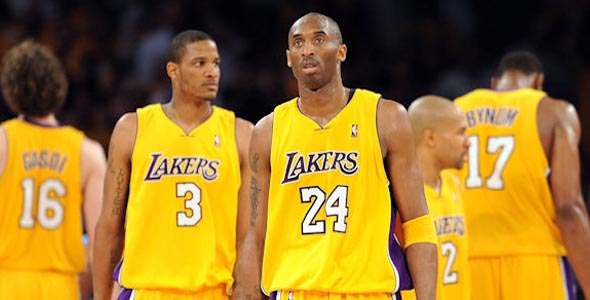 June 16, 2009 – Dr. Dino
'Dr. Dino' a.k.a. James Borbath from Dino Nation Blog, is a Broadcast Journalism Grad turned basketball blogger. He has worked as the publisher and writer of the Dino Nation Blog for almost 2 years. Dino Nation Blog is part of the sports federation of theScore.com. James also live blogs many NBA games for The Score.
Welcome to the second week of The View From Up North, God willing. I did not get any e-mails to respond to but please know that this can be your column as well if you want it to be. If you take a few minutes write an e-mail with your thoughts, opinion or questions, I will do my best to make sure it makes it in here. Aside from relationship advice I am willing to answer, just about anything. Unless of course, you are asking something like: "How can I get my girlfriend or wife to let me watch the game?" My answer to that is get a job in sports and then watching the game is your job. Hopefully all the girlfriends or wives let you at least watch the NBA Finals. Here are a bunch of quick takes on the NBA Finals in no particular order.
I did not know Phil Jackson was a fan of Malcolm X? That had looked like early 90's Spike Lee did it not? But congrats to Phil on title number 10. I still say the Red Auerbach is the best ever. What he did with the 9 titles in 10 years to me will never be matched. If this was the last season for Phil what a way to go out. Phil is a great coach and anyone that thinks otherwise is CRAZY. Yes he had great players but it takes skill to manage players that are stars and still convince the roll players that they matter and are needed.
Kobe has his ring without Shaq. Can we all move on now? In my job live blogging for The Score here in Canada I find it amazing how much the people love Kobe, and how much the people that don't, hate him. Kobe Bryant for whatever you think is always going to be great player. He has now won 4 NBA titles he has established himself among the best to ever play the game. You may not like some of the things that have happened over his career. But on the court where it matters the most he is great. I watched the guy pour 81 points on my poor Raptors. After watching all of that game it is hard not to respect Kobe Bryant. But it is the Kobe that makes passes to an open Trevor Ariza that wins a title on his own. Lebron James who may be the most talented player in the game when all is said and done. He understands that concept. The difference for Lebron is his guys that he is putting faith in are not getting it done. No one man can win a title on his own. He can win single games along the way but eventually he will need help to get to the top of that mountain. Will Shaq end up helping Lebron do that? Yes it is the off-season and the rumor mill is in high gear.
The Magic are a good team. All this talk that the finals sucked is bunk. The Magic took the Lakers to overtime twice. They gave a great effort but in the end made mistakes of a team that was young and new to all of this. Did anyone say the Cavs sucked when LBJ took them to the finals against the Spurs? They just said the LBJ needed better people around him. Well the Magic have a lot of great talent around Howard, and if they can resign Hedo Turkoglu, or find a player to fill his roll they will be back and fighting hard and likely getting no respect. I can almost bet that Cleveland and Boston will be at the top of the list to go to the Finals when the previews come out next season. People will still sleep on the Magic once again.
Any Fan that would sell his ticket for profit to the NBA Finals is no fan at all. Shame on all you so called Orlando fans that sold your tickets to Laker fans. You know who you are and hang your heads. 28 other teams fans would have been glad to be in your spot.
Stan Van Gundy is a great guy. Why people do not truly give this guy his due is beyond me. He is honest and does not pull any punches. Jack Nicholson may have said it best in a Few Good Men " You want the truth? You can't handle the truth!!!". Well Stan Van Gundy is indeed giving the truth in every word he says. I love his honesty and energy. He is far more than someone who looks like a guy from the naughty movies…ahem…Ron Jeremy. Both Stan, and his brother in the booth, have been involved with some of my greatest memories of this NBA Season.
So Adam Morrison is an NBA Champion and Charles Barkley is not. Why is it every year people point out this stuff? It is the reality of sports. I think we get it. Matt Bonner has a championship ring too, and Chris Bosh does not. So what does that really mean? No one is ever going to confuse Adam Morrison for a star. So he got a ring…congrats. But at the end of the day he knows, as we all know, how much (little) he contributed to it. While a guy like Barkley was a major factor on any team he suited up with, and is in the Basketball Hall of Fame. That is the true measure of things. This applies to Adam Morrison and Matt Bonner and any other bench player you care to name with a ring.
If Dwight Howard learns from this and works his ass off this off-season he is an early pick for M.V.P. next year. He is going to be on the cover of NBA Live 10. There is no NBA Cover curse and he will have an excellent season if he puts the work in this off-season. Dwight with a better offensive game added to what he already has is a scary though for any coach in the league not named Stan Van Gundy.
Boy I had a lot to say about the finals. So now the focus shifts to the draft. I did a couple nice interviews on the draft. The first with Ryan McNeil a fellow Canadian that covers draft workouts in Toronto for his site Hoops Addict.com. Then I also chatted with Justin Walsh who started cover ball at 17 years of age. Amazing and the guy knows his stuff as he works for Slam Magazine and shares his thoughts on the draft pool These are a bit Raptor based but we talk about a number of players in the draft class some that are definitely not going to be Raptors. Blake Griffin Ricky Rubio and a load of others.
The draft is like the hope of the season to come for the 29 teams that did not win the NBA title. In a draft class that has many more questions than answers that hope may not last long. It is going to be one of those year's where the people that have a great scouting staff will be counting on them big time.
More on the draft next week. So remember if you want to take part in this and choose some topics for your reading enjoyment, no problem, drop a line to me at [email protected] or contact The Hoops Doctors and they will fwd it to me. I will always have stuff to say each week but I would love to talk about whatever you would like as well. It is in my nature as a Canadian to be friendly and polite so please feel free to drop me a line.