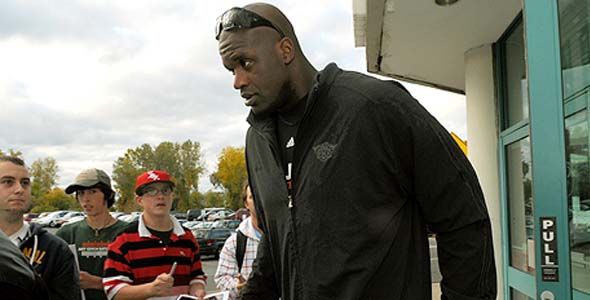 May 11, 2009 – Dr. Dime
Looking to get in shape? Would you like a body like 'Shaq-a-licious'? Well if you need some added motivation, maybe this freestyle rap from Shaquille O'Neal himself will help get you off the couch and into the gym. Or possibly it will lead you to Enlyten the company selling health strips that dissolve in your mouth for use after exercise.
O'Neal may be pushing a product for Enlyten with his videos for the 'Shaqlyte Diet', but I don't really care because they are damn funny just like Shaq himself is. He has become a social media machine, it makes sense that companies would be falling all over themselves to get at the Big Diesel.
And if you are a Phoenix Suns fan, keep your fingers crossed these 'Enlyten' products really work and Shaq comes back next year in the best shape of his life. And in case you were wondering, the answer is "NO" the Enlyten strips won't make you taller like Shaq: