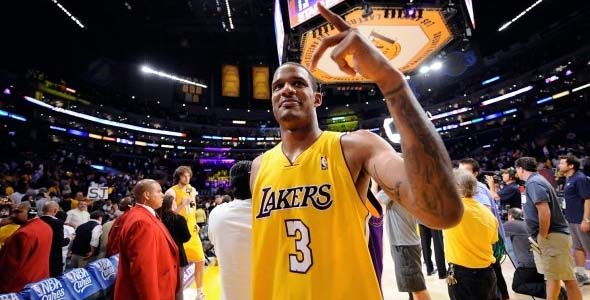 May 22, 2009 – Dr. Dime
Does everyone remember Sean Elliott from the San Antonio Spurs in the 90's? Well of course you do. But incase you didn't you won't have to look much further than Trevor Ariza of the LA Lakers. Why? Sean Elliott had a rare combination of ridiculous vertical leap and ability to posterize anyone in his wake, but also had a great outside stroke, always able to knock down the long ball.
I didn't see the similaritiese at first because Ariza came into the league as a guy with ridiculous hops and unlimited potential, but not much of an outside stroke. This season Ariza has developed into a great knock down shooter from the perimeter. It was a smart move on the part of Ariza and the Lakers coaching staff to realize that by developing an outside shot, he would be an excellent pairing with Kobe Bryant who commands so much defensive attention that shooters like Ariza can really help spread the floor for him.
Aside from making life easier on Kobe Bryant with his outside stroke, Ariza still reminds us every once in a while that he has some dirty, disgusting, hops. Hey Dahntay Jones, 'how do you like them apples'?? Watch this video, but try to remain seated: