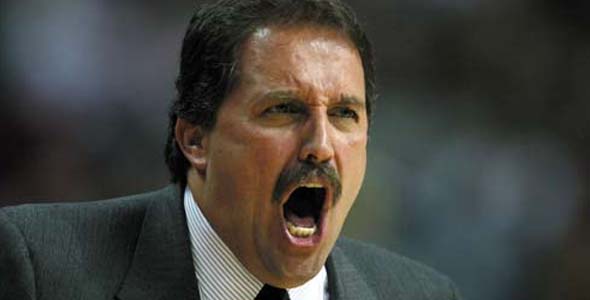 May 25, 2009 – Ryan Richman
Ryan Richman lives and dies with NBA Basketball. His biases include: all former and current UConn Men's basketball players, and any player past or present on the Golden State Warriors roster.
Get the ball out of LeBron's hands…Cleveland
Since when is LeBron James the point guard of the Cleveland Cavaliers? Not only is he not the teams point guard, they have an all-star caliber player in Mo Williams who runs the team pretty, pretty good (Larry David anyone?). The Cavaliers are at their best when LeBron doesn't dominate the basketball for the majority of the shot clock. Against the Magic this series, its like they just give the ball to LeBron, he dribbles around until the shot clock is at ten and then tries to make something happen. Down the stretch, this is what Cleveland wants to run every single time. But for an entire game the Cavaliers are at their best when Williams is attacking at the point and James is running off screens making plays for his teammates. When LeBron establishes West, Williams, Varejao and Big Z early, the game opens up for him – especially late in games. When his teammates have confidence early, they will be more reliable in late game situations and alleviate early game pressure that's on LeBron. He can save energy for the second half when it is more imperative for his offensive rhythm to get going. Even their defense is more stifling when the supporting cast is getting involved offensively, as they are far more intense defensively. And trust me, it is completely entertaining and really special to see LeBron offensively torch the Magic for 42 points a game, its just not beneficial for his team. He is playing differently this series than we've seen these playoffs. LeBron is at his best when he is being effective offensively without the ball in his hands. On offense, it looks like he is trying to score every single time he touches the ball. Although it sounds great and very plausible, his team will lose (Game 3). There is no excuse for LeBron to be averaging less than half the amount of rebounds against Orlando than he did in the first round against Detroit (11.3 rpg vs. Detroit, 5 rpg vs. Orlando). Regardless of whether or not Cleveland out-rebounds Orlando, it just shows to me that LeBron isn't focusing his energies on a typical, well-rounded "LeBron Game" of 30-7-7 that makes Cleveland virtually unbeatable. Even his assists are down by one in the Conference Finals. Scoring is just one facet of basketball that makes LeBron special. It is by no means everything and he needs to know that and start playing accordingly. The Cleveland Cavaliers are getting away from the successful game style that makes them special and it starts with LeBron's play.
Stand up…Carmelo Anthony
The only thing that I said when Carmelo Anthony fouled out of Game 3 was "stand". I have already officially hopped aboard the "Carmelo Anthony is a superstar" train, yet I was extremely disappointed when he did not stand up for his teammates after he fouled out with under a minute left in a winnable Game 3. I can turn the other cheek in a blowout or even an unreachable game. And if it's an away game – maybe. But at home, you're the emerging superstar and emotional leader thus far against the Lakers in the Western Conference Finals – inexcusable. You need to show your teammates on the court, down three points with twenty seconds left that you still got their back. Instead, Carmelo chose to sulk about his bad game and his early exit. They need his support and confidence still. It sets a bad precedent to the team and the fans. It sounds frivolous, but your superstar and franchise player just can't do that. Do you see Duncan doing that? LeBron? Kobe? No chance.
Keep talking…Stan Van Gundy
By far the most entertaining coach left in the playoffs and more importantly, my darkhorse favorite coach in the league. At the end of the day, Van Gundy tells it like it is. He holds his players completely accountable and he is publicly vocal when they aren't pulling their weight. Van Gundy calls out players in the media and he apparently is not star-struck, as he has called out all-star Dwight Howard for his lack of defensive intensity specifically, his number of blocks a game. I love it. While some coaches coddle egos, Van Gundy certainly never shies away from making it known what player is causing him heartburn that day. For egos the size of NBA players, it is far worse that this man, publicly humiliating them is short, overweight and balding. And please never have sympathy for players who complain that he puts too much pressure on them – that is absurd. Remember that their profession as well as what funds their lavish lifestyle is playing basketball. Is that not every basketball loving persons dream? A report today has Stan Van Gundy "hinting" to reporters at the fact that LeBron gets favorable calls. Watch a Cleveland game for a quarter and you'll see what he is talking about. It is actually unfair with the amount of calls he gets and it's impossible to choose who gets more irrational calls between LeBron, Kobe and Dwade. Superstar refereeing continues to ruin the NBA (that's a novel right there). Regardless, Van Gundy always says what is on his mind rather than letting it build up inside. Critics say he's a whiner. Shaq says he'll fold in crunch time. I say, keep doing what you're doing Stan, it is great coaching.