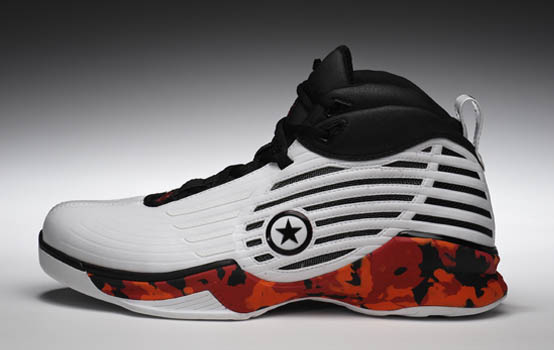 December 8, 2008
"I've always taken an aggressive approach with my game in the fourth quarter and when I step on the court I believe my drive can help myself and my teammates overcome any deficit,"… "The WADE 4 is the lightest of my signatures shoes yet, which helps keep me agile and explosive as the clock winds down." – Dwyane Wade on his new signature shoe from Converse
I'm sure a lot of you sneaker heads out there have seen the new Wade 4's, many of you have probably picked yourself up a pair already. But not as many of you will have snagged a pair with the alternate Miami Heat uniform colorway yet as they are in limited release thus far from Converse.
We are VERY pleased to tell you however that Converse was kind enough to send us a pair of these Wade 4's with the above pictured colorway in limited release. I rocked these babies in two big pick up runs this weekend to give them a good test before my YMCA league game tonight. Let's just say the test run was extremely positive, and i'll be sporting these on the court tonight (which go quite nicely with my team's black and red uni's by the way!).
Weighing in as the lightest WADE signature shoe to date at 14 ounces, these bad boys are super light. They feel almost like i'm wearing a pair of slippers or heavy socks on the court instead of shoes. Surprisingly though the lightness of the shoe doesn't seem to comprise the feeling of support you get. They still feel oddly sturdy and supportive given their light weight.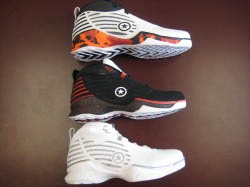 I also just read all about this new Suspend Technology they have in the heels of the shoe that is supposed to give you a sort of 'trampoline' feel. The best way I can explain it is this: You know how in some gyms that you've never played in before the floor just feels a little springier than others? You can really get up on the rim? Well that's sort of the permanent feel you get with these Wade 4's. It's amazing!
There are also some fine details about the shoe related to Wade himself you may not notice at first glance:
On the inside of each tongue are his sons' names, Zion and Zaire.
One lace has the date, 06/20, and the other reads 2006, reminding Wade of the date he led the Miami HEAT to their first NBA Championship and was named 2006 NBA Finals MVP.
The front of the tongue boasts six bold stripes on the left shoe and four on the right, a nod to Wade's height.
Finally, the WADE logo and his number "3" are on the back of the shoe.
The Converse WADE 4 will roll out in three colorways throughout the 2008-2009 NBA season. It will retail for MSRP at $90 at Dick's Sporting Goods, Finish Line, Champs, Finish Line, The Sports Authority, Eastbay, select independent retailers and online at www.converse.com.
For a listing of shoe release information on the latest kicks check out our "KICKS" section.