October 31, 2008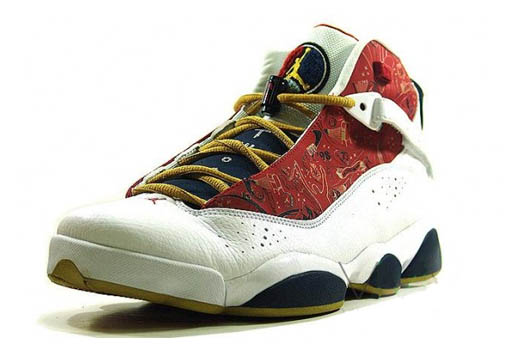 This time, it is a White/Wheat-Varsity Red-Midnight Navy colorway. The wheat sole and laces compliment the varsity red lined laser print, while being a nice contrast to the overall white color of the shoe and midnight navy tongue and midsole. The Jordan Championship legacy on the upper, including Jordan's famous pose holding up the number five in his left hand and number one in the other to signify his sixth and final NBA Championship. Also on the print is Jordan's "Last Shot," his Free-Throw Line Dunk, a mailbox to pay tribute to Karl "The Mailman" Malone, and, of course, a Championship Ring. There are many words and illustrations to commemorate Jordan's Six Rings, but you will have to wait and see all of it in detail when these release in early 2009.
For a listing of shoe release information on the latest kicks check out our "KICKS" section.
This shoe review was powered by The 3D Sneaker. Check out their website!