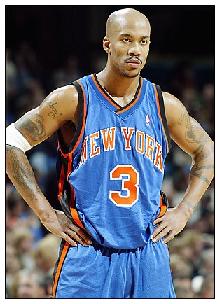 July 1st, 2008 – Dr. Dime
We are just three days away from one of the more important civic holidays in the USA, Independence Day. The Fourth of July, commemorating the adoption of the Declaration of Independence. The irony may run deep, but it's the perfect timing for the New York Knicks to finally declare a little independence of their own. The independence I'm talking about is from the burden
they have carried far too long, the contract of their star Stephon Marbury. As many of you will recognize, I use the term star far too loosely these days.


Although "Starbury" has stayed in the spotlight throughout his trials and tribulations with the Knicks past GM and Coach Isiah Thomas, partly due to his more than affordable brand of basketball shoes, he has been out of the hearts and minds of basketball fans for quite some time now. The latest word trickling our way to the writers at The Hoop Doctors is that Donnie Walsh is preparing to waive the oft-troubled point guard.
After a series of meetings between James Dolan, Knicks GM Donnie Walsh, and Head Coach Mike D'Antoni it has become apparent that the long term future of the organization does not include Stephon Marbury. There are concerns among D'Antoni's coaching staff that keeping Marbury around to play out his contract will have an ill effect on the team unity that D'Antoni would like to create among his players. The Knicks have been open to trade discussions for most of their squad this off-season but given the hefty $21 million owed to Marbury for the 2008-09 season (his final year on the contract) there is no one the Knicks could get in return that would equal the value they will get out of letting his salary come off the books. It is no surprise that the Knicks will gladly dump salary wherever possible to aid their salary cap situation for the next couple of years when some big name free agents will become available. Some names are so big they need not be actually named. We all know who we are talking about…
So what is left is just a short wait for the final sign off by Dolan to eat another $21 million or whatever number figures to be the final negotiation on a buy-out.

I'm out like Marbury in the Big Apple.