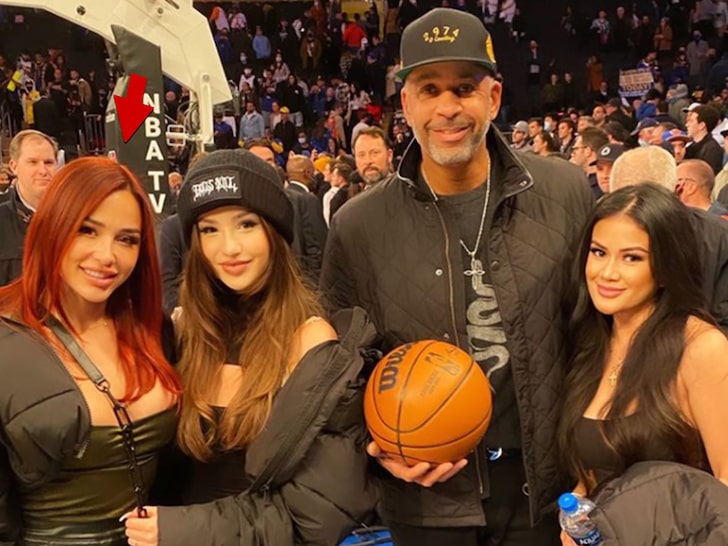 This summer the NBA universe was shocked to hear of the split between Steph Curry's parents Dell Curry and Sonya Curry. It came as a surprise as the couple was often seen at games together watching either Steph or his brother Seth Curry. They always looks cozy and in love. Something must have happened to have Sonya move so fast to call for a split and divorce, but we don't want to perpetuate the rumors.
What we do know is that Dell Curry was caught with cameras on Steph's historic night this week becoming the greatest shooter of all time (GSOAT), flirting with nearby playboy playmates who had seats near him in the stands. They even stopped for some group shots after Steph set his mark on the NBA shooting greatness:
DELL CURRY… pic.twitter.com/kOp7dD9KSD

— Ballislife.com (@Ballislife) December 15, 2021
TMZ Sports caught up with the girls and got some thoughts on whether Dell was getting his game on in parallel to his son's on court greatness….
Model Ana Cheri tells us her group of friends showed up to the historic game at Madison Square Garden together … and by coincidence, they ended up sitting right next to Dell in the front row.

Make no mistake — Dell never crossed lines or made anyone feel uncomfortable, but Ana's friends back it up … the guy was clearly flirting.
Ana says she congratulated Dell on Steph's success and chitchatted with him during the game … but after the group snapped shots with each other after the game, they parted ways.
H/T – TMZ Sports
Time will tell if Dell Curry starts to get in the game with playmates or whether he's too old for that nonsense and looks for a partner more his vintage. In the meantime here are some pics of Ana Cheri from her instagram to keep you guessing: