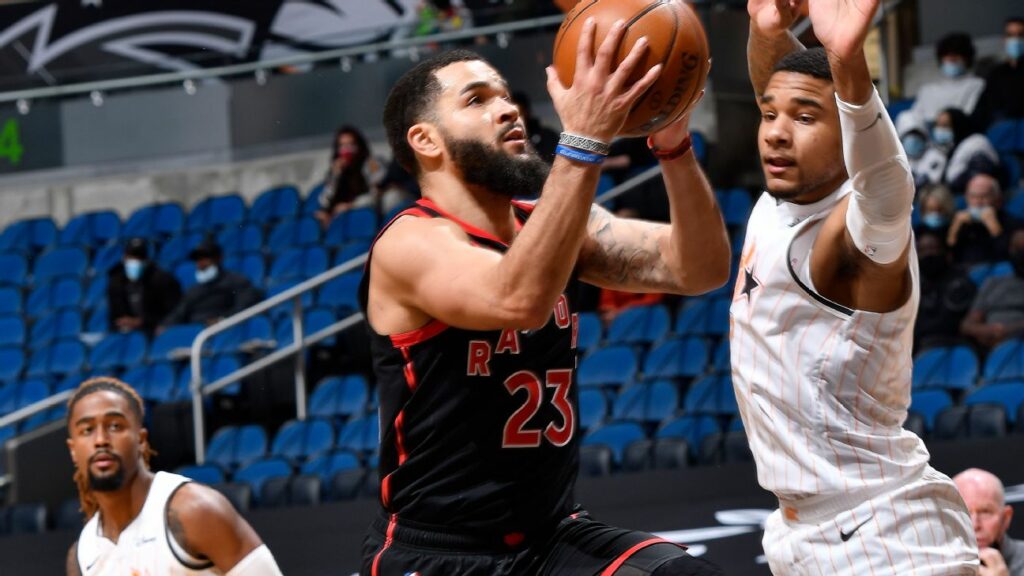 Fred VanVleet set a new NBA record recently, and his Raptors side have seemingly turned their fortunes around after a slow start. Can Toronto keep up their recent form and make a push for the playoffs? Just how far can they go if VanVleet keeps producing the goods?
Outsiders This Year
It's arguably a little too late for the Raptors to make any sort of run this season to put themselves in the mix alongside the likes of the Lakers, Nets, Clippers and the Bucks. They seem to be the four standout sides this year. However, we've seen teams have long streaks before, so why not again this year?
Although they've been playing well recently, Toronto's odds of winning the NBA Championship suggest that they're just playing for pride until next year. They're priced at odds of around +6500 with some of the top sportsbooks for sports betting in Canada such as bet365 and William Hill. In contrast, the smart money looks to be on the Lakers or the Nets at +250 and +500 respective with leading sportsbook bet365.
Franchise Record for VanVleet
Fred VanVleet added two new records to his resume recently when Toronto earned a 123-108 victory at the Orlando Magic. His first record of the season was when he signed the biggest contract for an undrafted free agent. This was an NBA record at $85 million over four years.
Against Orlando, he scored an astounding 54 points, the most ever in NBA history by an undrafted player. He also eclipsed DeMar DeRozan's single-game franchise record of 52 points. He was over the moon to claim the record:
"Unbelievable. I'm very humbled and honored to be in the same sentence as both of those guys," said VanVleet. "Just a special night, obviously, a lot of different levels," he said. "So just trying to enjoy it for now, but it's not a championship or anything like that. It was a good game for me, and I'll enjoy all the love for a couple hours and get ready for the next one."
He finished the game with three rebounds, two assists, three steals and three blocks in 37 minutes. With a record of 17 for 23 from the field, 9 for 9 from the foul line, and 11 for 14 from the three-point line, it was a night to remember for the Raptors guard.
It's been a while since Toronto experienced such excitement in a game – a moment that can certainly bring them together as a team. Perhaps VanVleet's record-breaking night could be their spark to finish the season well.
Yuta Watanabe Turning Heads
Fred VanVleet may be the one getting all the accolades at the moment, but first-year Raptor Yuta Watanabe is enjoying his time in Canada as only the third Japanese player to ever play in the NBA. He joined fan's favourite Rui Hachimura on the roster and is starting to put some great performances together. Now a role model for those in his home country where basketball is still growing, Watanabe wants to continue to be a positive influence:
"I think that helps basketball in Japan a lot," Watanabe said in January about he and Hachimura's impact on the best sport in the world.

"I hope a lot of kids will play in the NBA…just like me and Rui. I think this is great for us. I still have to do a better job. I mean, obviously Rui's been great. I think I can do a better job. More people will watch basketball and then basketball gets bigger. I've got a lot of work to do."
It remains to be seen just how the Raptors will fare come the end of the campaign, but VanVLeet and Watanabe can both have a big say on how it goes down. However, the title may well end up in LA or New York this time around. Can the Lakers win another title in memory of Kobe Bryant or will the Brooklyn Nets and James Harden claim their first-ever NBA Championship?