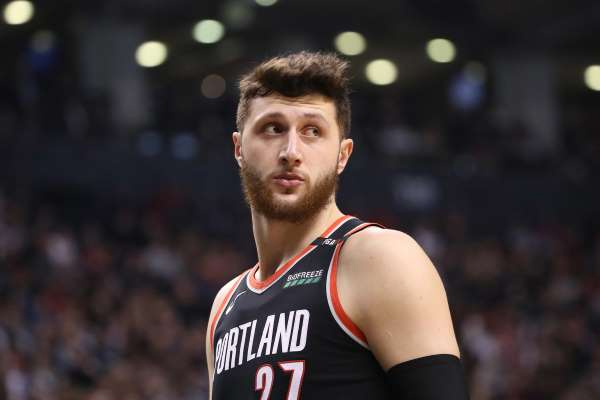 Jusuf Nurkic is done for the season.
The Trail Blazers center went up for a rebound in the second overtime of his team's matchup against Brooklyn before suffering a gruesome leg injury. Nurkic left the court on a stretcher and did not return.
The Blazers big man was attempting to tip in a teammate's missed shot when he came down awkwardly in traffic, causing his leg to bend between the knee and ankle.
The team have since announced that Nurkic sustained a compound fracture of his left tibia and fibula. The injury was described as "season-ending" and they said "there is no timetable for his return to basketball activity."
Later in the day, The Athletic reported Nurkic had undergone surgery and there was no nerve or muscle damage in the center's leg.
The Blazers held a collective moment of silence and prayer for Nurkic in the locker room following the game. Players from other teams also sent well wishes, thoughts and prayers via social media.
Despite the win, Damian Lillard and the rest of the team were subdued in the aftermath of losing one of their most valuable players in such a fashion.
"It's tough, man," Lillard said after the game. "We fight so hard all season long and our starting center, one of our main guys, goes down. On a big night for us, going into the postseason, it looked bad. It's kind of discouraging to see that. Especially with CJ [McCollum] being out, it's just another thing. More adversity, it seems like, at the wrong time. Like I said before, we've got to lean on each other even more. We've got to trust guys and count on guys to step up into his role and do it by committee.

"He wouldn't want us to say, 'All right, let's feel sorry for ourselves and feel sorry for Nurk and not care as much.' So we're going to finish the job, try to get the game, but I think after the game, that's when it kicks in."
Nurkic recorded 32 points, 16 rebounds and five assists in the contest, which Portland won 148-144. He was averaging 15.6 points, 10.4 rebounds and 3.2 assists in 72 games this season.