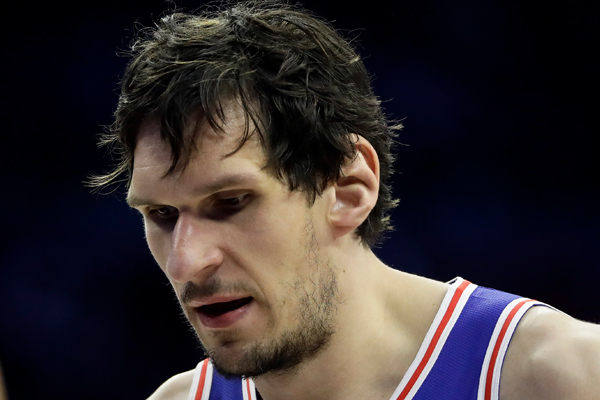 The Philadelphia 76ers front court has taken another hit. Serbian center Boban Marjanovic suffered a right knee injury against the New Orleans Pelicans.
Marjanovic's leg got tangled up with Pelicans forward Cheick Diallo during their 111-110 win . Marjanovic needed help getting off the court and used crutches to board the team bus. A team spokesman said he would undergo an MRI on Tuesday.
Boban ?

The big guy goes down and is unable to get up after falling in a tangle. He is helped off the court. Here is the play where it happened. pic.twitter.com/mqpCsj0OyW

— NBC Sports Philadelphia (@NBCSPhilly) February 26, 2019
"It was tough to see him go down and be in pain. So I'm praying that everything will be all right for him and we can get him back ASAP," Sixers forward Tobias Harris said. "He did an amazing job out there when he was playing."
Marjanovic had 12 points, 10 boards, two blocks, and was a team-high plus-8 in 20 minutes played.

UPDATE:
An MRI was conducted and according to a Serbian website, the MRI came back negative.
An MRI on Boban Marjanovi?'s right knee came back negative and "showed that there was no fracture and that it was not a serious injury," according to the Serbian website B92.net. Marjanovi?'s agent, Miško Ražnatovi?, does not expect Marjanovi? to miss much time, the report says.