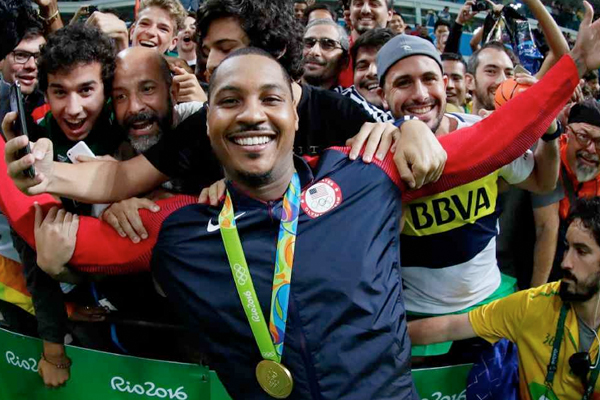 It appears Melo has caught the interest of the Puerto Rican Basketball Federation and current players such as J.J. Barea are trying to recruit him to the national team.
"We tried a bunch to get him in the past, but of course nobody blamed him for playing for Team USA," Barea told ESPN's Adrian Wojnarowski. "But if he ever wants a chance to represent us, it would be awesome to have him."
Melo who was born in New York to parents of Puerto Rican descent, has played four times in the Olympics for Team USA. Should he be interested in playing for Puerto Rico, USA Basketball would need to grant him a waiver.
"I'm a big fan of Carmelo not only as a basketball player, but more importantly as one of our Puerto Rican heroes," Puerto Rico federation president Yum Ramos said, per Adrian Wojnarowski of ESPN. "He and his foundation have done a lot for Puerto Rico. I think along with J.J. Barea, Carmelo could make a huge impact on the team and help lift the spirits of our country."
Despite his struggles, Anthony would be a huge addition to the Puerto Rican team. He has long taken part in numerous charitable endeavors on the island territory, and also owns NASL soccer team Puerto Rico FC.
With his NBA future uncertain, the Puerto Rico basketball federation wants him to know that he has a uniform waiting for him on the small Caribbean island.