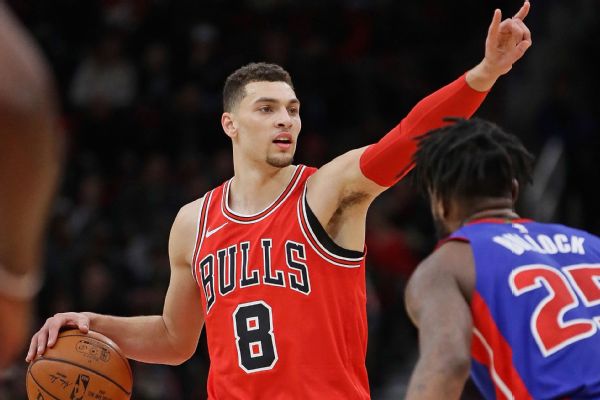 Both Karl-Anthony Towns and Andrew Wiggins have, to some extent, seen their names get dragged through the mud as the Minnesota Timberwolves try to sort out their Jimmy Butler dilemma. Zach LaVine, their former teammate, wants everyone to know what they're hearing about the duo isn't true.
Per the Chicago Tribune's K.C. Johnson:
"KAT and Wigs are some of my good friends," LaVine said. "Wigs just had his newborn baby and congratulations to him on that. And KAT is a really laid-back dude, but they are extremely competitive at the same time. They work hard. I feel like they are getting some flak because some people are saying they don't work hard. People in the organization are saying that. But I think they are extremely hard workers.

"Whenever I am in the gym, they are too. I have seen Wigs go back late night after games that he didn't play well and go get shots up too. So, I think they are proven players in the NBA for sure. I think they will be just fine."
Anytime an NBA player is called soft it's an exaggeration. You don't get to the pinnacle of this sport by not showing a certain commitment to working and an interest in winning. It's just not possible.
Now, have Towns and Wiggins developed as quickly as most thought? That's up for debate. Towns is already one of the best offensive bigs ever, but his physical tools have yet to translate to Anthony Davis-esque stopping power. Wiggins is considered one of the most explosive players alive, yet he seldom busts out at either end. So yes, on some level, both players have disappointed. But to claim it stems from a lack of work and interest takes it too far.
Maybe bad habits are part of it. They sure could be. But they're both young. They have time. More importantly, they cannot be vilified more than the organization and the coaching staff. Development is part and parcel of running a successful franchise, and under coach-president Tom Thibodeau, the Timberwolves have by and large failed to groom their own.