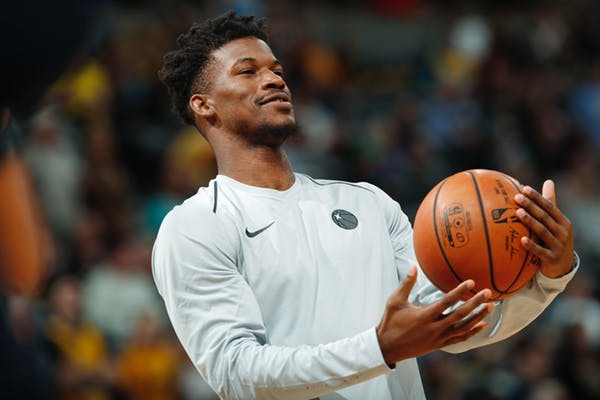 Jimmy Butler is beginning the 2018-19 regular season with the Minnesota Timberwolves. He doesn't want to finish it there.
He would much rather end it with the Miami Heat. Or the Los Angeles Clippers. Or Brooklyn Nets. Really, he may want to end the year on more than half of the league's teams outside Minnesota.
In addition to his usual wish list, though, Butler is legitimately intrigued by the Philadelphia 76ers, according to ESPN.com's Zach Lowe:
But the Warriors won't have four in-their-prime stars forever. Chris Paul is 33. Towns has a chance to be the most versatile scoring big man in history. You're gonna leave that dude to go to Miami and play with … who? You're gonna move to Brooklyn, even though Irving scuttled the dream of teaming up there? Philly would be a different story, and Butler has eyes for them, sources familiar with the matter say. The Sixers have expressed almost no interest in trading for him, sources say. There is some theoretical road map to a Clippers team-up with Leonard.
It makes sense that the Sixers haven't shown interest in trading for Butler. Like many other teams on his preferred list of destinations, they have the ability to carve out the cap space necessary to sign him next summer.
For as relevant as they are, the Sixers have also prioritized internal development. A team sure that it's one player away from routine title contention kicks around the idea of flipping, say, Robert Covington and Markelle Fultz for Butler—especially if he's willing to re-sign. But the Sixers aren't that. At least, they're not acting like it.
They traded away an NBA-ready prospect in Mikal Bridges for a project prospect in Zhaire Smith and a future pick. They didn't burn through their cap space this past summer with long-term deals. They displaced JJ Redick from perhaps the best starting five in basketball to make room for Fultz. They don't have the makings of a team that'll go all-in on a Butler trade. Perhaps that changes as the season wears on, but for now, they're a good bet to avoid his sweepstakes.