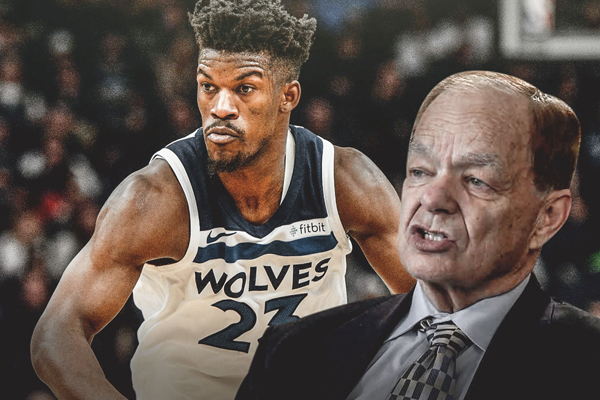 Minnesota Timberwolves owner Glen Taylor says that Jimmy Butler had an agenda before he was traded, which created a "negative environment" around the team.
Even though the players publicly said they wouldn't let his situation affect their play, the team struggled on the court.
Taylor told the Star Tribune that he had an agreement with the coaching staff and Butler. Jimmy would play at least 10 games to begin the season and then they would re-evaluate where they were at in terms of making a deal for the All-Star.
"We have to play at least 10 games and then we would see which teams were meeting their goals, which teams weren't and the teams that weren't we thought we would have a better chance to negotiate," Taylor said. "We were preparing ourselves to do this anyway. But certainly, I guess if we would've won all five games out there, it might have been different."
Butler was finally dealt to the Philadelphia 76ers for Robert Covington, Dario Saric, Jerryd Bayless and a 2022 second-round pick.
"I don't think it was all under our control," Taylor said. "I wish it would've been more under our control, but I think we saw Jimmy had an agenda and we had to work around that."

"They were positive to Jimmy and positive about playing and working hard," Taylor added. "But … just watching their action on the floor and dealing with the toughness of a fourth quarter, I don't think it was quite there," Taylor said. "The only thing I can relate back is they probably were under pressure they didn't realize as young people. … It's a negative environment."
Butler made his debut with the 76ers on Wednesday and scored 14 points.