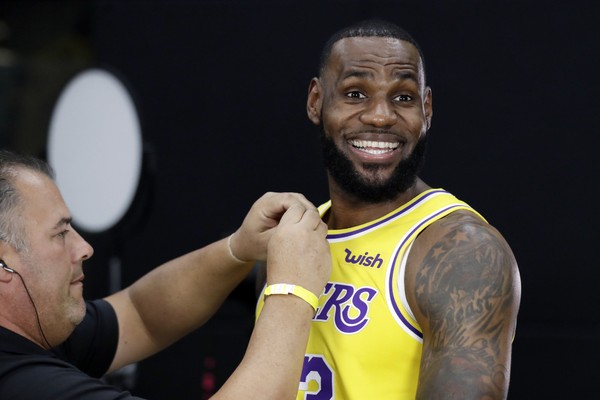 After signing LeBron James in free agency, the Los Angeles Lakers methodically, if imperfectly, assembled a team around him that would allow them to carve out max money next summer.
Could it have all been for naught?
Conventional wisdom says no. The Lakers are the Lakers. LeBron is LeBron. Surely, together, they'll attract another star. That star just might not be Kawhi Leonard or Jimmy Butler, according to The Ringer's Kevin O'Connor:
There are whispers around the league that neither Jimmy Butler nor Kawhi Leonard wants to play with LeBron, and sources I've talked to would be shocked if Klay Thompson left Golden State. That might leave the Lakers with Walker or Middleton as their top remaining free-agent targets. If I'm the Hornets, that possibility would have me worried.
Let's be clear: This could absolutely be true. LeBron will be entering his age 35 season next year. He has to slow down at some point. Primetime superstars may not want to tether their fates to his twilight. They could also be turned off by the attention he draws. They could also be concerned about his next contract year, in 2020-21, and living through the hellacious coverage that could come with it.
Let's be clear about something else, too: This could absolutely be overstated. About eight-and-a-half months separate the NBA from 2019 free agency. Things change. It's far too early to say the Lakers are somehow at a disadvantage because of LeBron. Really, their pitch may depend on how well the young kids develop around him, and there's nothing at all surprising about that.