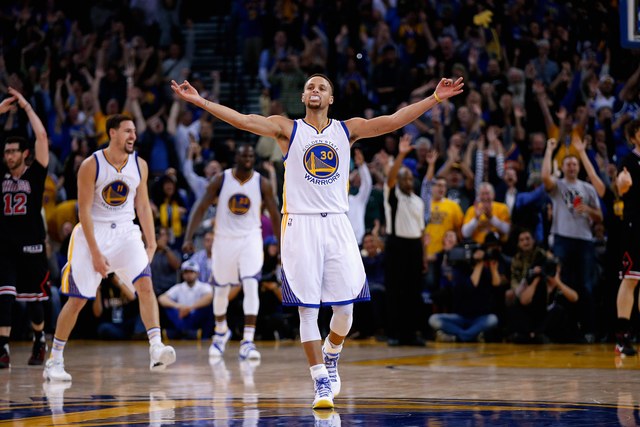 The game has changed for the better over the past decade as the NBA game is more fast-paced and open than ever with teams spacing the floor out and moving the ball like a whirring machine with most seven footers launching three-pointers, something that seemed unimaginable even a decade ago.
The league is full of stars and offensive talent and the style of play is much more team oriented and as a result there is a more entertaining product for fans.
Scoring trends up every season, but so far the 2018-19 season is at historic levels across the league.
NBA teams are averaging 113.4 points per game on average, the highest mark in 49 years.
The NBA's scoring boom is reaching new heights during the first week of the 2018-19 season.
— Average score = 112.9 PPG
— Up 6+ PPG from 2017-8
— Up 12+ PPG from 2014-15
— up 16+ PPG from 2011-12
— Up 21+ PPG from 1998-99
— First time over 110 PPG since 1985-86 pic.twitter.com/FMN35CmuCH

— Ben Golliver (@BenGolliver) October 23, 2018
Here are some other crazy numbers according to NBA.com: Teams are reaching the 100 point mark 88.2% of the time thus far this season, five years ago that number was 51.5%.
For further proof, the LeBron James Lakers are averaging 126.8 points per game this season and are 1-3.
The T'Wolves scored 136 points in regulation in a game… and lost, that hasn't happened since 1992.
The biggest culprits for this scoring explosion appear to be the increased pace of play across the league and the fact that the vast majority of the league is prioritizing high efficiency shots, shots around the rim or three-point shots, early in the shot clock in order to try and replicate the success of the Warriors and Rockets.
While scoring will likely slow down a bit as teams start to adjust and exhaustion sets in during the grind of an 82 game season, we are likely headed for the highest scoring season in more than 40 years, buckle up…