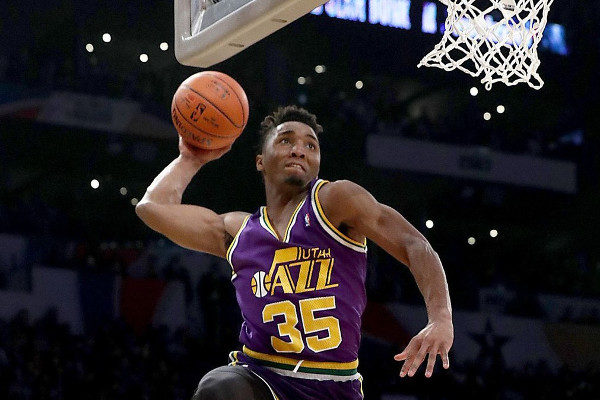 Ask almost any NBA analyst or enthusiast, and they'll probably tell you the Utah Jazz are in an enviable situation—not because they're positioned to beat the Golden State Warriors now, but because they have a promising and competitive core, deep-playoff potential and loads of projected cap space next summer.
Donovan Mitchell disagrees.
Well, okay, not entirely. He can't deny the Jazz are promising or good, or that they'll have tons of money to burn in July. But he takes exception to this idea that they cannot chase a title now. As he told Yahoo Sports' Chris Haynes:
"The goal is a championship," Mitchell told Yahoo Sports without hesitation. "… I just find it funny. People ask me that all the time. What's next? I say to them, 'How come you don't ask Golden State what's next?' You know what I mean? That's how I look at it. We're all in this for a championship. We're not here for nothing else. I just laugh when people ask me that because I'm like, 'Would you ask that same question to Boston?' What's next for us is a championship, and you can ask everybody in the organization and in the city and they'll tell you what's next."
Most NBA players aren't going to concede the championship race in mid-October, so there's a nothing-to-see-here feel at play. At the same time, Mitchell brings up an interesting point.
The Jazz had the best net rating after the All-Star break last year, according to NBA.com. They're among the deepest teams in existence. They have two stars, and Joe Ingles, and Ricky Rubio. They will be contending for home-court advantage through at least the first round.
Indeed, the Warriors have created an air of inevitably thanks to their dominance. But if we can't call the Jazz contenders, there are a handful of other teams we'll need to remove from the conversation as well.