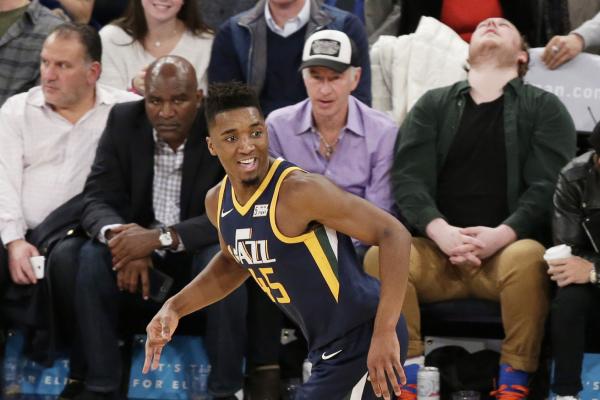 The Utah Jazz could not avoid the buzzsaw that was the Houston Rockets on Tuesday night.
They may, however, have averted an even bigger disaster.
Halfway through the fourth quarter of Game 5, with the Jazz clinging to their postseason livelihood, Donovan's Mitchell banged legs with James Harden while dribbling in the half-court. He was visibly shaken up afterward and needed to be helped off the floor:
Donovan Mitchell helped off the floor after colliding with Harden ? pic.twitter.com/9JjhEpX9UF

— Bleacher Report (@BleacherReport) May 9, 2018
Though there were more than seven minutes left in the game, and though Utah's season was on the line, Mitchell would not return. He tried shaking off his pain by walking around in the hallway. No dice. He would eventually return to the Jazz's bench, where he was visibly frustrated, and where the injured Ricky Rubio took it upon himself to try lifting his spirts:
A moment between Ricky Rubio and Donovan Mitchell, after Mitchell was forced to sit the final 7:09 of Utah's season due to injury: pic.twitter.com/6IEnWM18nj

— Rob Mahoney (@RobMahoney) May 9, 2018
The Jazz, of course, would go on to lose, 112-102. Their season is now over, and they must embark on an offseason fraught with self-reflection.
Is this core for real? Should they re-sign Derrick Favors? How about Dante Exum, who didn't play in Game 5 due to a hamstring injury? Will they guarantee the contracts of Ekpe Udoh, Thabo Sefolosha and Jonas Jerebko? Or will they instead seek to carve out cap space and push the bill on this season's surprise ceiling?
The answers to pretty much all of these questions depend on the amount of faith Utah has in Mitchell carrying his momentum from this season into next season. That's a tough call, even with him projected to finish second in Rookie of the Year voting. And it's an even harder situation to gauge if he's coping with a serious injury.
Fortunately for Mitchell and the Jazz, this doesn't appear to be the case. X-Rays on his injury after the game came back negative:
Donovan Mitchell's (left foot soreness) x-rays returned negative. He will undergo further tests in Salt Lake City.

— Utah Jazz (@utahjazz) May 9, 2018
Additional testing still needs to be done, but this preliminary prognosis is good. It doesn't change the outcome of their series with the Rockets, but it does preserve the center of their future.