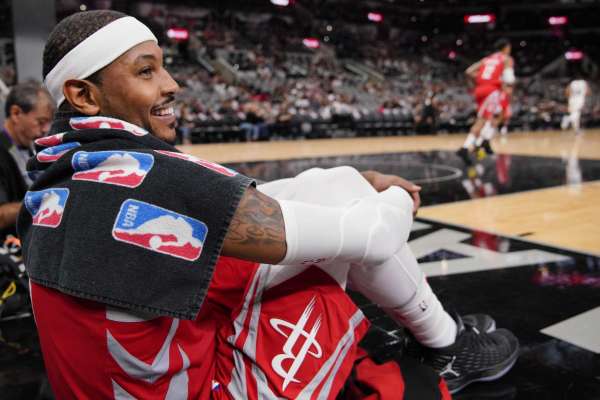 Carmelo Anthony has agreed to come off the bench for the Houston Rockets. That doesn't mean he's comfortable with it. He's not.
From ESPN.com's Tim MacMahon:
"It's challenging mentally more so than anything, having to prepare for the game differently," Anthony said. "Other than that, it's a challenge all the way around. It's just a matter of how I'm going to react to that challenge and accepting that challenge, which I am, which I will do.

"For me, at this point, it's more about what I have to do for the sake of the team, instead of trying to just go out there and do whatever or trying to have a specific role. Every night will be different; but for the most part, it is a challenge, but it's something that I'll get used to quick."
Nothing Anthony says here is particularly unfair or off-base.
Rhythm is paramount to scorers, and plenty of NBA players will talk about how it's harder for them to make an impact when entering the game cold off the bench. He's used to playing more minutes and, most importantly, attacking with the ball in his hands. Though the Rockets are maximizing his potential to do that by bringing him off the pine, and while he flirted with this type of transition on the Oklahoma City Thunder last year, he's still in foreign territory relative to the rest of his career.
Close to the vast majority of people seem to believe Anthony's stay in Houston won't work out. I'm more optimistic. The Rockets create enough space for him to effectively attack in occasional bursts, and they'll generate enough wide-open catch-and-shoot opportunities for his efficiency to improve from last season.
Figuring out how to hide Anthony on defense, particularly when he's playing with James Harden and/or down the stretch of close games, is the more pressing matter.