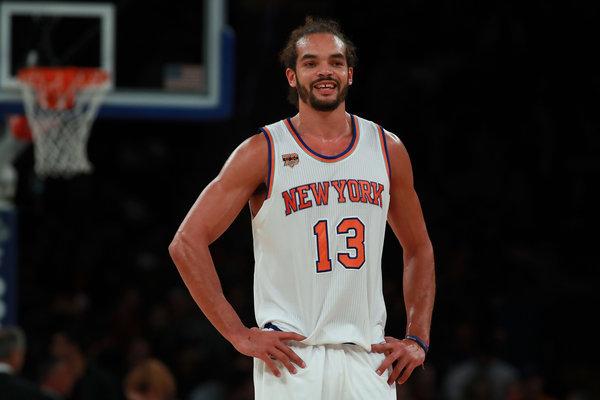 Don't worry: You're TimberBulls jokes can live on. The Minnesota Timberwolves have Jimmy Butler, and Taj Gibson, and Derrick Rose, and now Luol Deng, in addition to coach-president Tom Thibodeau. That's enough.
But for anyone hoping the legendary Thibs-era Bulls reunion would continue with the arrival of Joakim Noah, The New York Times' Marc Stein has some unfortunate news:
Even the Wolves acknowledge hearing the "Timberbulls" chatter … but word is they have no current plans to pursue Joakim Noah should Noah part ways with the Knicks in the near future as expected https://t.co/0ZyE1xFn3M

— Marc Stein (@TheSteinLine) September 12, 2018
This makes a ton of sense in a vacuum. Noah hasn't been in an NBA rotation for the better part of two years, and the Wolves already have Karl-Anthony Towns, Taj Gibson and Gorgui Dieng to hold down the 5 spot. There's sophomore Justin Patton to consider, too.
Signing Noah in the event New York waives him would be overkill. It ensures Gibson never gets minutes at center and is instead chained to power forward. Deing might have to log some time at the 4 to make it all work as well. That, in turn, makes it harder to carve out power forward minutes for Anthony Tolliver, who will already and mistakenly need to play some 3, and it removes any possibility of dedicating time to small-ball arrangements that feature Butler or Andrew Wiggins at the 4. A real cluster-you-know-what.
This news comes as disappointing if you're the Knicks or one of their fans. They're probably going to stretch and waive Noah at some point anyway. At least if he knew he had a spot on the Timberwolves there would be a chance he pulls a Luol Deng, who gave $7.5 million back to the Los Angeles Lakers as part of his buyout.
Fear not, though, Knicks peeps because the season hasn't yet started. There's still time for Thibs to go full Thibs, which would, via backchannels, afford New York some leverage while giving Noah more of an incentive to shave money off the top of his contract to successfully get out of town.