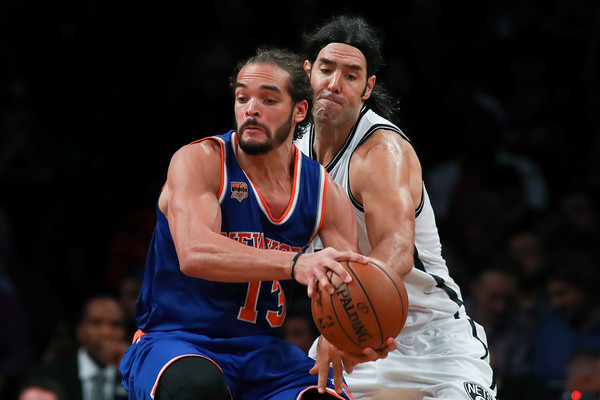 If both the New York Knicks and Joakim Noah get their way, the 33-year-old big man will not be a member of the team for that much longer.
This has been the default refrain for quite some time. Noah is owed $37.8 million over the next two seasons, including this one, but doesn't fit into the Knicks' frontcourt rotation or timeline. The prevailing assumption has been that they would simply stretch the final year of his contract over three seasons and move on.
And as general manager Scott Perry noted, that could very well be the plan, per ESPN.com's Ian Begley:
Knicks GM Scott Perry says he hopes to come to a resolution that works for both Joakim Noah and the Knicks prior to training camp. Says he's in touch regularly with Noah's representatives.

— Ian Begley (@IanBegley) September 20, 2018
Still, if the Knicks were resigned to waiving Noah, it feels like they would have done it already. That they've made no official call just yet suggests they're hoping they can trade him or, more likely, that he'll give back money as part of a buyout.
Either scenario is more ideal for New York. Waiving and stretching the final year of Noah's deal would leave them with more than $6.4 million in dead money on the books through 2021-22. While that saves them about $12.9 million in room heading into next summer, it's also a lot of money to pay someone not to play for your team.
Dealing Noah is basically out of the question. The Knicks' brass has already said it won't flip picks or prospects to facilitate immediate relief, and they aren't finding a taker for Noah without primo sweeteners. Getting him to give back some money as part of a buyout feels more likely. Luol Deng did it with the Los Angeles Lakers, in large part because he knew that he would find a home elsewhere. If Noah has a sense of where he could land next, he might be willing to do the same for the Knicks. And though, say, $5 million doesn't make much of a difference, it would shave $1.3 million off New York's commitment to him each year. And every little bit counts.