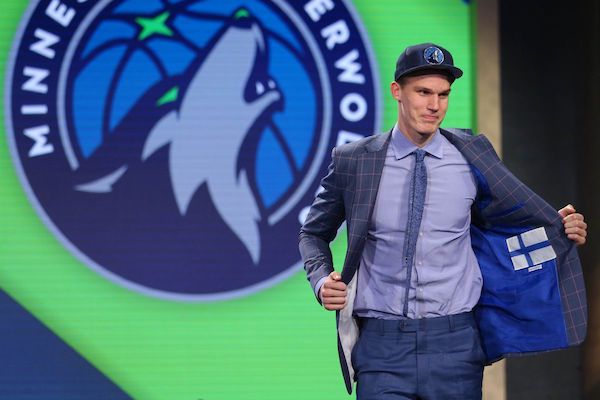 Remember when the Minnesota Timberwolves drafted Lauri Markkanen only to trade him to the Chicago Bulls as part of a deal for Jimmy Butler? Well, Lauri Markkanen sure remembers it. And he's got jokes about it.
Anyone who's anyone knows the Timberwolves culture is unraveling right before our eyes. Jimmy Butler has requested a trade, Andrew Wiggins' brother is happy about it, and actual Andrew Wiggins is beefing with Stephen Jackson (because of course). Amid all this hoopla, Markkanen decided to get some shots in on Twitter:
#tbt pic.twitter.com/MUGgcgwb2K

— Lauri Markkanen (@MarkkanenLauri) September 20, 2018
Daaaaaamn. This is cold-blooded, in the most fantastic way possible.
If you're wondering whether the NBA's resident social media troll Joel Embiid approved, don't worry. He did:
— Joel Embiid (@JoelEmbiid) September 20, 2018
This is some timely tweeting from Markkanen, and it would be absolutely hysterical no matter what. It's also warranted criticism at this point.
Many thought the Timberwolves fleeced the Bulls in the Jimmy Butler blockbuster. Markkanen's rookie-year development, coupled with Kris Dunn's baby-step progress, has since forced us to look at the deal in slightly different terms. Zach LaVine's health and contract will go a long way toward deciding just how well the Bulls made out in this trade, but they most certainly don't appear as if they were hosed.
Even if they were, it hasn't exactly worked out for the Timberwolves. Butler seems like an inevitable goner after formally requesting a trade out of Minnesota, according to The Athletic's Shams Charania and Jon Krawczynski. Coach-president Tom Thibodeau may ultimately decide to let the situation ride out instead of moving Butler, but that only means the Timberwolves could risk losing their All-NBA wing for nothing.
Meanwhile, Markkanen is in Chicago building up his stock. He may never reach the individual heights of a Butler, but he's among the league's most promising young talents. Props to him for reminding Minny of what it gave up.