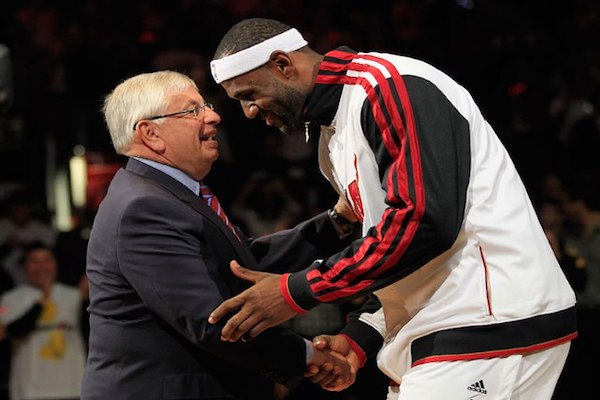 If former NBA commissioner David Stern had his way, LeBron James' "The Decision" TV special never would have happened.
You all remember the moment: It was July 2010. LeBron had just wrapped perhaps the most prolific and anticipated free-agency tour ever. He went on television to cap off his process to announce that he was joining the Miami Heat, with whom he would go on to win two championships.
People hated him for the way he went about leaving the Cleveland Cavaliers. Even now, with his image both on and off the court fully intact, people still bring it up as a pointed sore spot. And it seems Stern saw this coming.
Ian Thomsen, the author of The Soul of Basketball, went on to describe as much during a recent appearance on The Lowe Post podcast with ESPN.com's Zach Lowe. Here's a transcript of the conversation, courtesy of LeBron Wire's Erik Garcia Gundersen:
"Adam on the one hand was understanding of LeBron and the predicament he was in and Stern was more the hardline guy that this was a bad thing," Thomsen said. "It didn't really surface but you could sense they had different views of it. I think that helped draw David out and say that hey 'this was a terrible thing that happened and we tried to stop it.'"
This isn't really surprising. Stern was old school compared to current commissioner Adam Silver, and "The Decision" was abhorred by a ton of more progressive thinkers. What tends to get lost in all this is 1) the special received fantastic ratings and 2) LeBron raised a boatload of money for charity in the process.
Did he go about leaving the Cavaliers the wrong way? Definitely. There should have been more communication on his part. But he was 25 at the time of his free agency—a kid by many definitions. We can't hold it against him now, after all these years—not when given the additional context, and most certainly not when his whole 2010 offseason escapade contributed to driving the social-media and year-round interest incumbent of the NBA today.