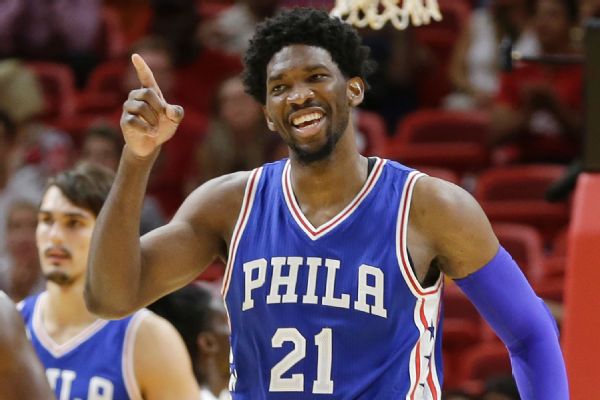 Are you disappointed by the Philadelphia 76ers' offseason? Were you maybe hoping they would sign LeBron James or Paul George? Did you think they would trade for Kawhi Leonard? Did you assume they would at least land a Will Barton or Tyreke Evans or Avery Bradley? Are just razzed up that they couldn't even hold on to Nemanja Bjelica?
Well, Joel Embiid doesn't share in your disappointment. He's not worried about the Sixers failing to procure a superstar this summer. In fact, he doesn't care at all.
From Philly.com's Sarah Todd:
They were ready to strike. Brett Brown said he was star hunting. The Sixers struck out on landing LeBron James, Kawhi Leonard, and Paul George. Joel Embiid didn't care.

"When my season ended, there was a lot of talk about adding guys. I literally did not really care because I want to get better," Embiid said during a conference call Wednesday from Johannesburg, South Africa. "I want to be better than those guys that were mentioned, if I'm not already better than them."
Let's overlook his comment about potentially already being better than LeBron, PG13 or Kawhi. That's a matter for another day.
Instead, focus on Embiid's confidence level. You have to appreciate that, particularly if you're a Sixers fan. And hey, even if you're not, Embiid's aplomb is a necessary reminder that this team is still good. They won more than 50 games last year while getting less than the bare minimum from Markelle Fultz. They lost some key veteran talent in Marco Belinelli and Ersan Ilyasova, but their core is set up to improve.
Embiid, Fultz, Dario Saric and Ben Simmons aren't even in their primes yet. Robert Covington is only just entering his. Ditto for TJ McConnell. Maybe the Sixers get something from Zhaire Smith. They're going to be fine—better than fine, actually. Only the Boston Celtics and Toronto Raptors seem to have an ironclad hold on spots ahead of them, and it doesn't take much to talk yourself into the Sixers usurping one of those budding powers.
Maybe things change. Maybe it turns out the Sixers missed a golden opportunity this summer. Maybe they aren't able to land a star next summer in free agency or via trade either. And maybe that's a problem. For now, relative to most other teams in the East, they're still sitting pretty.