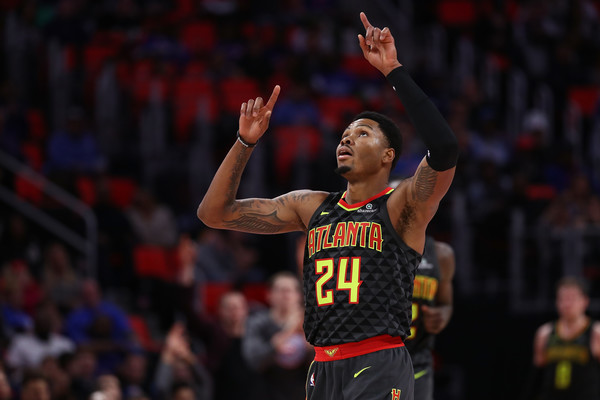 Kent Bazemore has an admirer in the Houston Rockets and New Orleans Pelicans.
According to Rockets Wire's Kelly Iko, both squads have shown interest in acquiring the 29-year-old from the Atlanta Hawks:
Houston has been engaging teams looking for someone to take Anderson's contract for months, and currently has its 2019 first-round pick. A package of Anderson, Onuaku and a 2019 first checks out, but Atlanta doesn't view Onuaku as a "move-the-needle" type prospect.

The Pelicans are also a team interested in acquiring Bazemore, but Atlanta is not interested in taking on Solomon Hill. New Orleans also has its 2019 first-round pick.
Both the Rockets and Pelicans need wings, so their interest tracks. Bazemore is owed $37.4 million over the next two years (player option for 2019-20), which is less than ideal for someone who shouldn't be more than the fourth-best player on a contender. But both Houston and New Orleans have less savory contracts spanning the same number of seasons they could try and flip back to Atlanta.
It will be tougher for the Rockets to break bread with the Hawks. Ryan Anderson makes more money than Bazemore and isn't a desirable add-on, even if they're sending a first-round pick back with him. Though Iko says the Hawks aren't interested in taking back Solomon Hill, a package built around him and Alexis Ajinca effectively saves them $6 million next season. That, plus a first-round pick, may be able to get the job done.
The Hawks could also simply wait out the market. They're in no real rush to get anything done. Bazemore doesn't add too many wins to their bottom line, and he isn't someone who will flip the locker room on its head amid losing. Another team could come calling for him closer to the deadline offering a return that isn't structured around so much inbound salary.