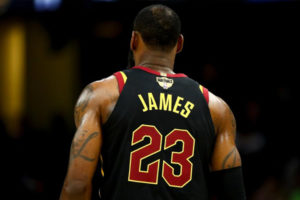 Similar to the Cleveland Cavaliers exit from the NBA Finals, the third iteration of The Decision seemed to be a foregone conclusion. Game 1 of The Finals kept us monitoring NBA Twitter and asking; "Is this really going to happen?" Ultimately, reality set in and the Cavaliers lost. The Decision v3 was no different. LeBron James opts out – NBA Twitter ignites and cities such as Philadelphia anticipate a victory, only to have the foregone conclusion occur. LeBron James to the LA Lakers.
The 76ers have reportedly informed the Philadelphia police department to "bear down and prepare for another city wide celebration" in preparation for LeBron's announcement on Tuesday. He is expected to sign with the Sixers. (Source: police cheif Jared Smith- Philadelphia PD)

— Richard Holder (@earthlover76) July 1, 2018
The biggest domino's in NBA Free Agency have now fallen. Where does this leave the teams that thought they could sign LeBron? What do the LA Lakers look like next season?
LA Lakers 2018-2019 (NO Kawhi Leonard)
In the first year of LeBron's LA tenure, it will be rough. Thankfully for Lakers fans he signed a 4-year deal. Now the bad news – the Lakers signed Kentavious Caldwell Pope (represented by Klutch Sports), JaVale McGee, and Lance Stephenson. This appears to be a one-year place holder of a season because with this roster it is hard to believe that they are simply not waiting for Kawhi to become a free agent. LeBron may lose his mind watching (and playing with) Stephenson and McGee over the course of the season.
On the floor, they could be a respectable team. Brandon Ingram will benefit from the addition of James. He will be able to get more open looks and not have to bear the scoring load. The same goes for Lonzo Ball. The one area of concern with the James and Ball pairing is the fact that Lonzo Ball is a very good passer who can get easy looks for his teammates. Lonzo or LeBron will have to give up some time with the ball in their hands – that is not the issue. The bigger question is what becomes of the player who does give up the ball and does not orchestrate the offense. Lonzo Ball is not a spot-up shooter and LeBron has not played off the ball on a consistent basis since his early days in Miami. James is certainly more capable of doing so, but is he willing.
It will take some time for this team to gel and create an identity. The young Lakers will have to mature quickly if they want to make some noise in the Western Conference. In 2017-2018 the Lakers finished 11th in the West with a 35-47 record (12 games from the 8th seed). If LBJ can provide a +12 win difference that places them as the 8th seed in the post season. In order to do so we will have to see a refocused James. In Cleveland, he was able to use the regular season for teaching purposes. The Cavs were able to coast though the regular season knowing that they could flip a switch and dominate the Eastern Conference play-offs. This will not be the case on the Lakers. A play-off appearance and/or a series win will be a victory for the Lakers without Kawhi Leonard.
LA Lakers 2018-2019 (WITH Kawhi Leonard)
The Lakers are a completely different team if Kawhi Leonard is able to force a trade to LA. If he is, one would assume that Lonzo Ball or Brandon Ingram would have to be included. For basketball purposes, the Lakers should prefer to include Ball. Ingram will be a much better fit with Leonard and James in the short term. The Lakers with Leonard and James should be a 3 or 4 seed in the Western Conference. Depending on where Clint Capella lands, Leonard and James would provide another lethal two-some in the West – stacking up with the likes of Harden/Paul, Westbrook/George, and Lillard/McCollum. Golden State is still on another level.
Recent history of waiting a year for a free agent, who publicly states that they want to play for the Lakers, has not been kind to LA.
If the Lakers land Leonard, the expectations immediately become great. Anything less than a deep run in the post-season will be a disappointment.
Philadelphia 76ers
The city of Philadelphia truly believed that LeBron was headed to play on Broad Street. The 76ers have a promising young core of talent. It was announced today that they will be bringing back J.J. Redick on another one-year deal. Essentially, they have the same core group as they did last season. There are two questions that need to be answered for this team. One, are they willing to give up assets for a potential one-year rental of Kawhi Leonard? If so, they could make noise in 2018-2019. They would have to hope that with Leonard they achieve a high level of success that would make it hard for him to leave. The second question, what will Markelle Fultz give you? His Instagram videos look impressive. He is working with well-known NBA Trainer Drew Hanlen, so Philly will see results. He is an ex-factor. If he develops anywhere near what was expected or on the curve as Jayson Tatum, this team could challenge for the top seed in the East.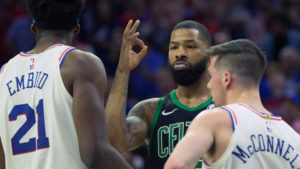 With Leonard, this team can represent the Eastern Conference in the NBA Finals.
Joel Embiid has made leaps and bounds from early injuries. The question that will loom with Embiid for a while will be his health. Hopefully, with another healthy 2018-2019 he will be able to put that talk behind him. More importantly, simply because he can control this, he must mature on the court. Trash-talking while down 3-0 in a series, as he did against the Boston Celtics, is not a good look. In the same series he was involved in a few late game mistakes that may have cost his team a chance to win the game.
Houston Rockets
The Rockets never made much sense from a basketball perspective for James. With James Harden (ball dominant) and Chris Paul (ball dominant) already on the roster, the style of which LeBron plays the game (ball dominant) did not appear to be a good fit. The talent level would have been amazing though.
Houston recently lost Trevor Ariza in free agency which will hurt. They are still saddled with Ryan Anderson's contract and face resigning Clint Capella. They do not face an easy road to get back to the Western Conference Finals. If they are able to extend Capella, they essentially will return as the same team. The Rockets will have to find a defensive spark plug to replace Ariza. This is not a bad thing based off the 2017-2018 season. The trick will be at what cost will they have to pay to extend Capella. The Lakers certainly can afford him if they chose, at the very least they will make an offer to force the price up on Houston and force them to match. Should the Lakers pull off the coup of Capella, look for the Rockets to slide as low as a 3 or 4 seed in the West.
Cleveland Cavaliers
All throughout the post-season James' supporting cast was said to be sub-par. Head Coach Tyronn Lue was said to be a master-mind. The 2018-2019 season will tell this story.
The Cavs still have Kevin Love and a young core of very good NBA players. Rodney Hood, Jordan Clarkson, George Hill, Larry Nance, Jr., and the addition of Collin Sexton will keep Cleveland competitive in the Eastern Conference.
The offense will look different without James handling the ball. This will be a gift and a curse. Their offense should have more flow to it and not be as stagnant. Coach Lue will be tested in designing an offensive scheme that suits his players talents. With the talent that is still in Cleveland, and being in the Eastern Conference, they should be able to make the playoffs next season.
While many see James move as a seismic shift in power within the NBA, it is not. He has landed on a team with hopes of making them a play-off contender, in a conference that is loaded. That is not seismic. The real unbalancing of power will come with the Kawhi Leonard situation. If he is able to force his way onto the LA Lakers, the Western Conference will be insane. If Leonard is traded to an Eastern Conference team, that team automatically fills the annual NBA Finals slot that Cleveland previously occupied.