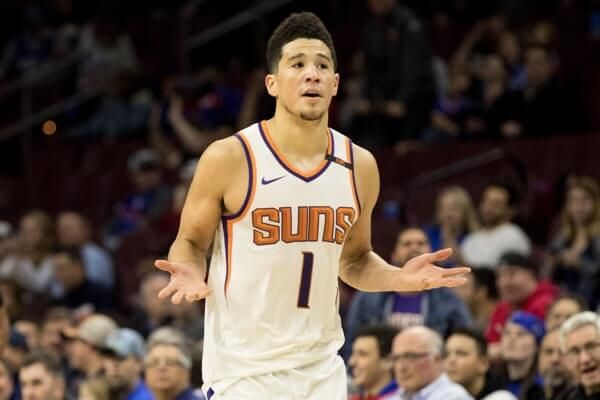 Devin Booker is entering extension negotiations with the Phoenix Suns as a relatively unhappy camper.
According to Yahoo Sports' Shams Charania, the team's franchise cornerstone is none too thrilled that they waived his best friend, Tyler Ulis:
Sources: As he becomes eligible for five-year maximum rookie extension, Phoenix Suns' Devin Booker is upset with the front office over release of best friend Tyler Ulis, who started 43 games last season.

— Shams Charania (@ShamsCharania) July 1, 2018
Could this prevent Booker from signing the max extension the Suns are invariably going to offer him?
Probably not.
From AZ Central's Scott Bordow:
The Suns may be closing in on a five-year contract extension for star guard Devin Booker.

A Suns source confirmed Sunday night that Booker and his representative, Leon Rose, will meet with Suns' Managing General Partner Robert Sarver and General Manager Ryan McDonough Tuesday in Los Angeles to discuss the framework of the extension.

Booker is eligible for a five-year deal worth $158 million. The contract would not kick in until the 2019-2020 season.
As Bordow also notes, Booker's displeasure with the Ulis move isn't expected to diminish his interest in remaining with the Suns long term. And hey, why would it? He'll have up to 158 million reasons to be happy. The NBA is a business, and friendships are not always taken into account when making player personnel decisions.
Signing Booker now, though, does make it harder for the Suns to carve out cap space next summer. Trevor Ariza, Tyson Chandler and Jared Dudley all come off the books, which will help the situation, but Booker's hold will explode to $25-plus million. The Suns will still be able to dredge up some flexibility, but they might need to wash off the final year of Brandon Knight's deal to enter max territory.
Perhaps they're not interested in retooling through free agency. Ariza's arrival, coupled with the Mikal Bridges trade, suggests they are. And with more teams slated to have space in 2019, they'll need to ensure they're maximizing their financial position, otherwise it'll be harder for them to stand out relative to other suitors.